23.02.2022
Office building from the best of the tree: Innovative future building made of wood shines with veneer from europlac
Bonn/Dornbirn. Dornbirn in Vorarlberg is richer by a future-oriented innovation: the office building "Sägen 6" is located at Sägerstraße 6. "That in and of itself is nothing special, but on the one hand the building is made of wood, a sustainable building material, and on the other hand the interior impresses with the best a tree has to offer: The finest veneer," says the managing director of the Initiative Furnier + Natur (IFN) and long-time housing analyst, Ursula Geismann.
The builder of the impressive wooden building is F.M. Hämmerle Holding. The 200 solid cubic meters of wood required for the construction were cut in the company's own forest and assembled by Fussenegger Holzbau. Inside, the company europlac from Tettnang, among others, took the reins. Special INOIS®MICRO acoustic panels with microperforation were used as wall cladding. "This results in a harmonious interplay of positive acoustic properties and a modern look, as is desired nowadays," says Geismann. The support panels - 16-millimeter-thick MDF boards - were veneered with silver fir. The Bau wood comes from Vorarlberg and the Bregenz Forest. For the surface of the panels, a homogeneous appearance was important to the client. Special attention was paid to this when selecting the veneer sheets. Durable protection of the wood is provided by a treatment with hard wax with an effective UV blocker. "The result is really something to behold. Anyone moving around the ultra-modern office building has direct, visual contact with nature. This makes it easy to work even in stressful times, and breaks are particularly relaxing even in a building that is otherwise dedicated to work," concludes Ursula Geismann. (DS)
Initiative Veneer + Nature (IFN)
Initiative Veneer + Nature (IFN) The Initiative Furnier + Natur (IFN) e.V. was founded in 1996 by the German veneer industry and its partners. Today, it is supported by European companies from the veneer industry, trade and the veneer processing industry as well as trade associations of the wood industry. The aim of the association is to promote veneer as a natural and climate-friendly all-rounder material.
More information on the subject of veneer at:
facebook
linkedin
instagram
furnier.de
Photo 1: Modern and cozy at the same time: The break area in the "Sägen 6" office building. Photo: IFN/Europlac
Photo 2: Lots of glass and homogeneously patterned veneer wood give the building that certain something. Photo: IFN/Europlac
Photo 3: The dark staircases stand out in stark contrast to the veneered wall coverings. Photo: IFN/Europlac
Photo 4: Detailed view of the "Saw 6". Photo: IFN/Europlac
Photo 5: Good to see: The perforation of the acoustic panels. Photo: IFN/Europlac
February 23. 2022
Initiative Furnier + Natur e.V. - Bonner Talweg 84 - D-53113 Bonn - m +49 171 1783 444 - www.furnier.de - www.veneer.eu - presse@furnier.de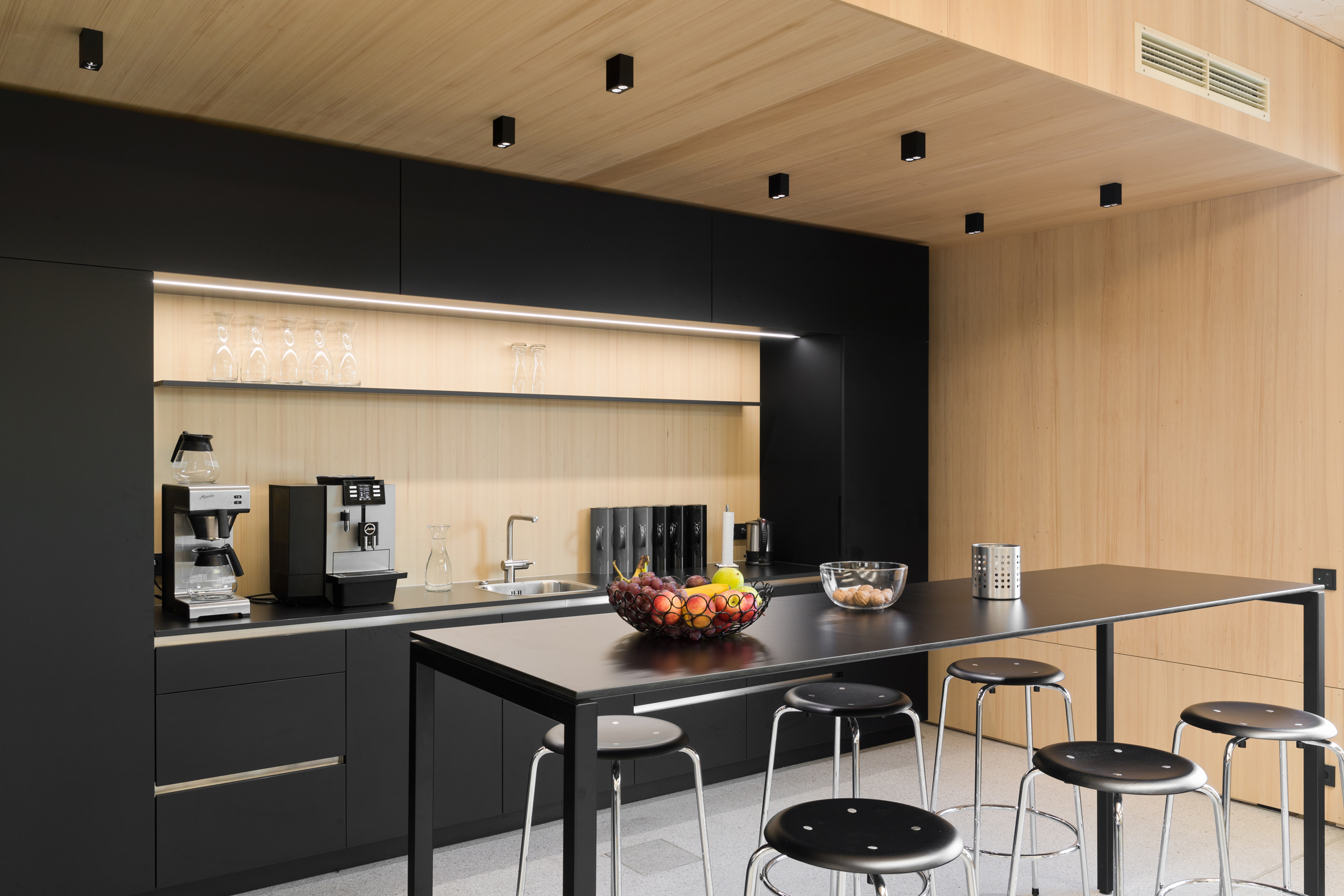 Photo 1: Modern and cozy at the same time: The break area in the "Sägen 6" office building. Photo: IFN/Europlac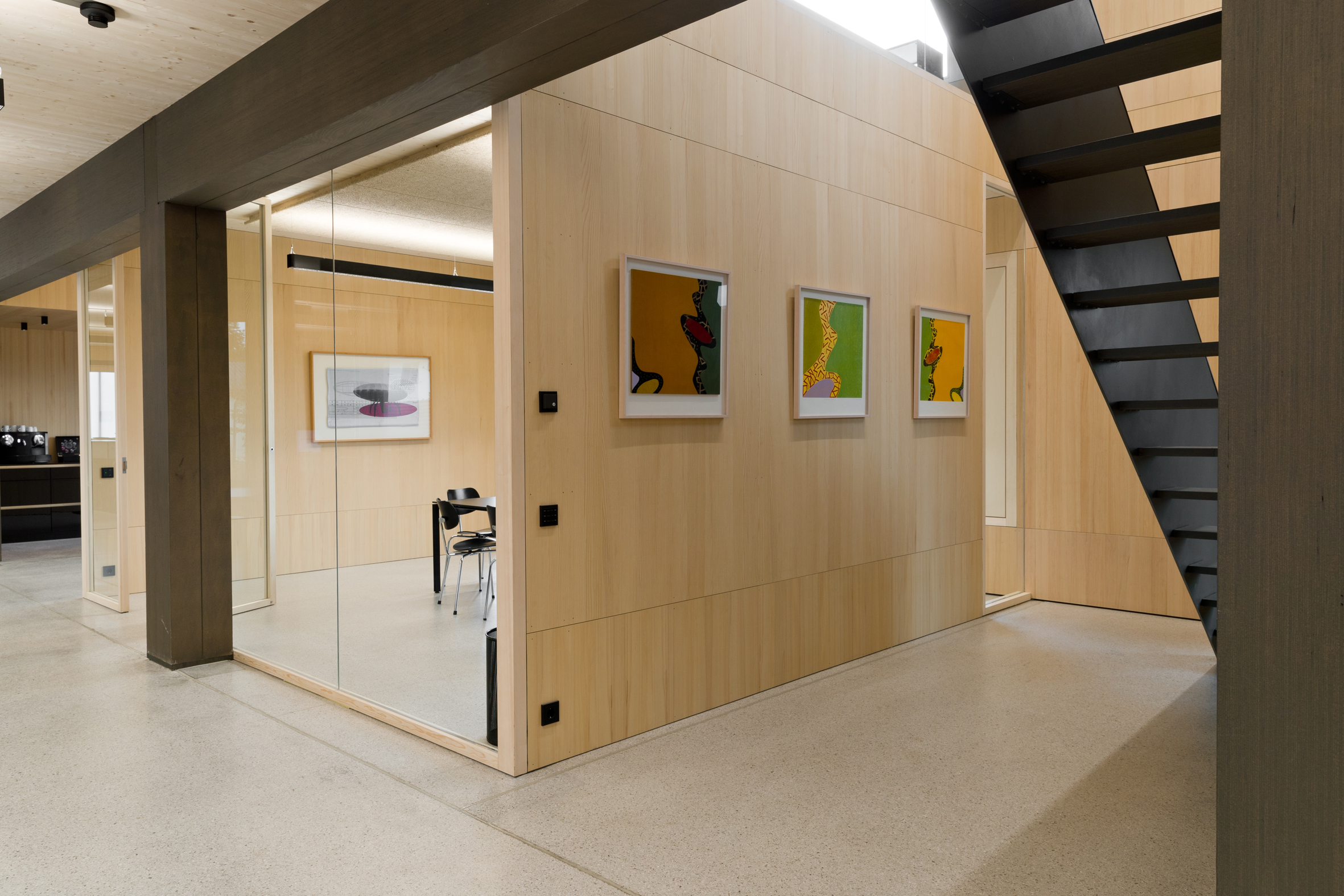 Photo 2: Lots of glass and homogeneously patterned veneer wood give the building that certain something. Photo: IFN/Europlac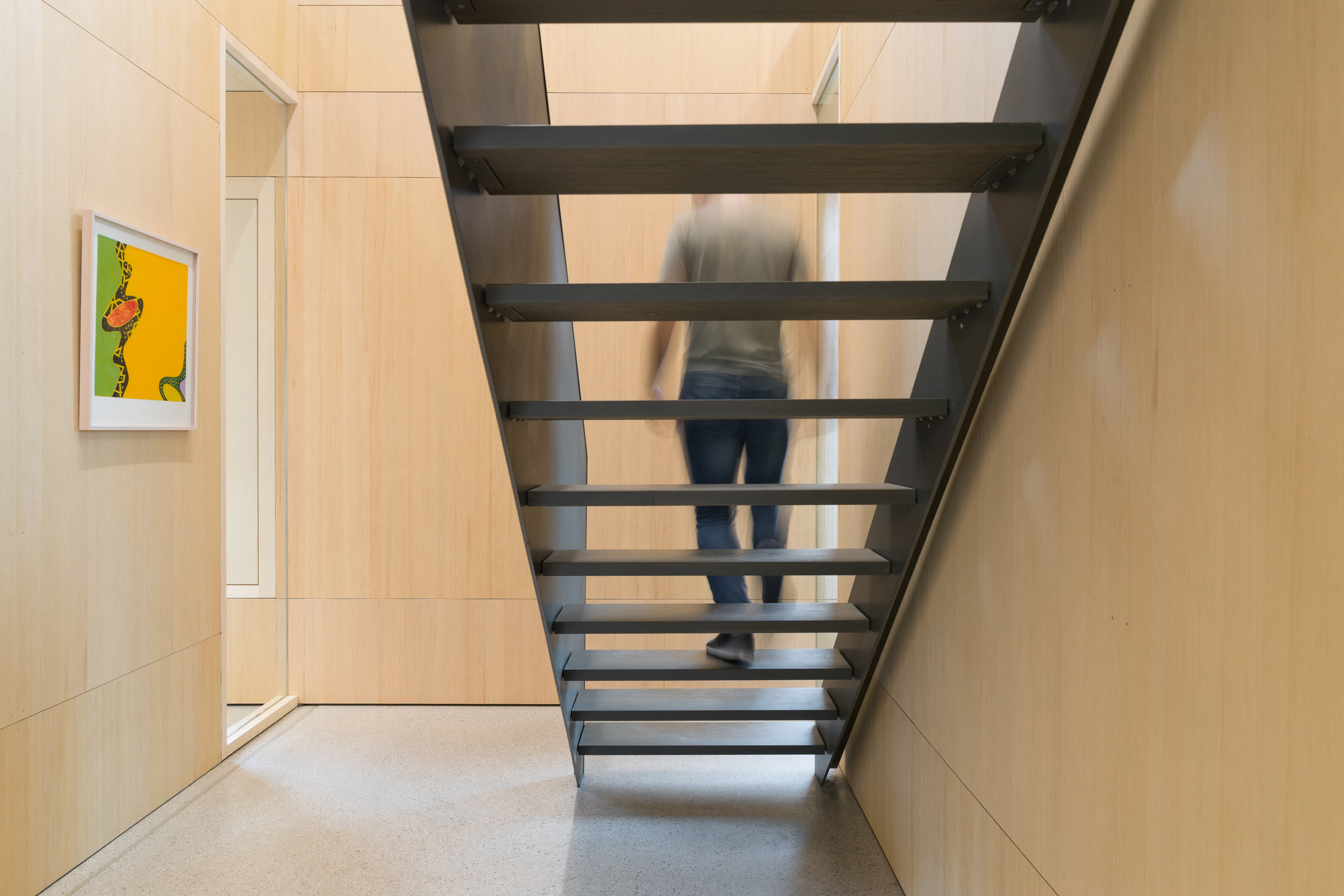 Photo 3: The dark staircases stand out in stark contrast to the veneered wall coverings. Photo: IFN/Europlac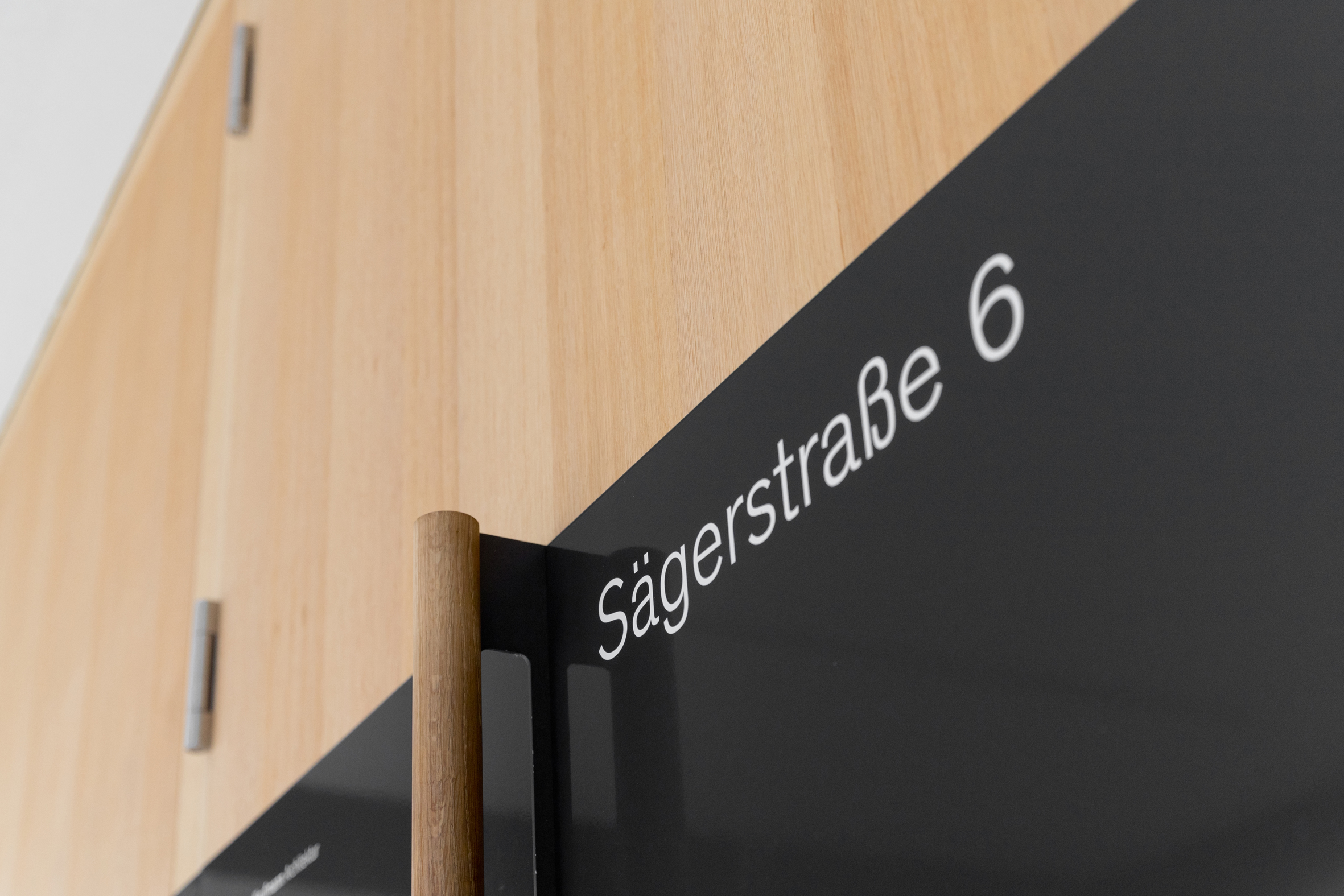 Photo 4: Detailed view of the "Saw 6". Photo: IFN/Europlac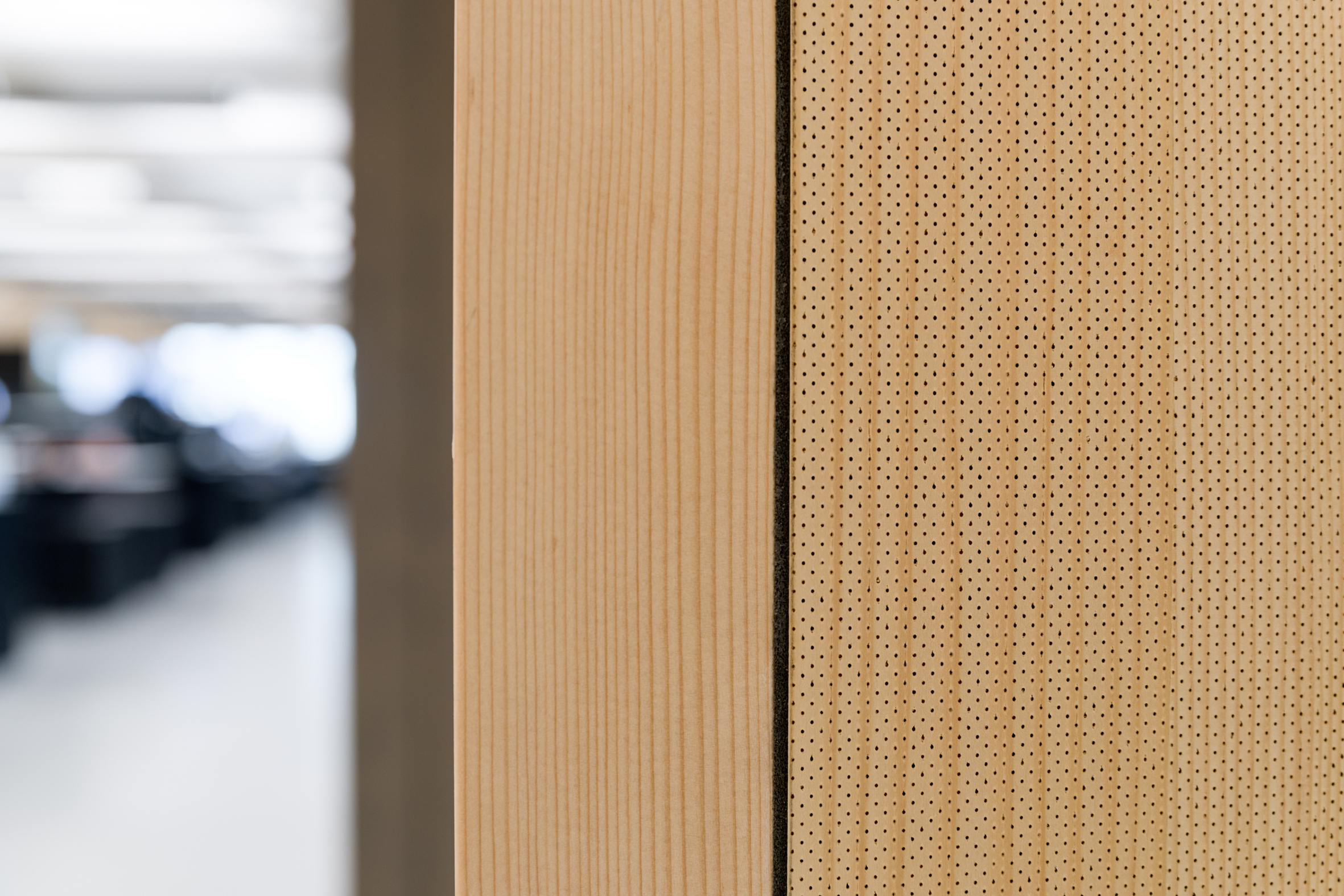 Photo 5: Good to see: The perforation of the acoustic panels. Photo: IFN/Europlac