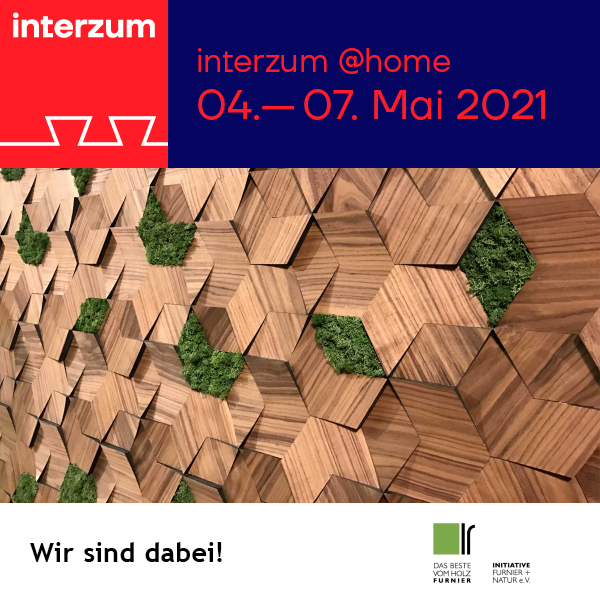 Interzum @Home
From May the 4th to 7th, 2021, it won't be gates that open in Cologne, but servers. In 2021, the good old interzum will be a purely digital marketplace. The Initiative Furnier + Natur (IFN) will exhibit as an umbrella organization at the digital interzum 2021. Under its umbrella, international member companies will present their veneer developments and veneer innovations. Members and the IFN information booth will be accessible via chat, as in an exhibition hall this time, and will be available for contact and questions. Interesting videos, for example on functional veneer trends in architectural projects and the ecological advantages of veneer as a surface material can be clicked on around the clock.
The Cologne supplier fair interzum is and remains the world's largest and most important trend fair and leading show for furniture manufacturing and interior design. Constantly optimized product quality, technical innovations, more efficient technologies, the focus on resource conservation, combined with the increased demand for design, give the furniture and interior design industry a visible boost in innovation after this trade fair.
The success of a trade fair can always be measured. The benchmarks of a trade fair are: New products reach the trade visitors, innovations give the industry a boost, international contacts are cultivated, network communication is lived and orders are received. These successes can also be achieved digitally. Trade shows will come back, but digital will not disappear.
THE IFN MEMBERS PARTICIPATING IN INTERZUM @HOME ARE:
Balti Spoon/Moehring-Group, decospan, Europlac, S.R.O. – Röhr GmbH, Fritz Kohl GmbH & Co KG, Furwa Furnierkanten GmbH, HWB Furniere und Holzwerkstoffe GmbH, J. und A. Frischeis GmbH, Josef Grabner Furniere GmbH, Kirchgasser Furniere GmbH, Koch GmbH, Koppensteiner Furniere GmbH & Co. KG, Lubelski Fornir Moehring-Group, M. Kaindl OG, Roser AG, Schorn & Groh GmbH, Ulrich/IVC Group, Wehmeyer GmbH & Co KG, Wilfried Koch KG.


Link zur digitalen Plattform interzum @home