Processing of wood veneer



Nowadays Wood veneer production is highly automated. It takes place in several steps: the cutting to size, jointing (splicing) the Wood veneer leafs or sheets to form a Wood veneer surface (face), attaching the veneer face to substrate materials and the subsequent surface treatment.
Cutting and splicing veneer
The individual veneer sheets are joined together (spliced) according to the required final matched veneer. This assembling or splicing is done using different techniques.

In the case of book matching the veneers are selected and assembled so that two sheets lie opposite each other as a mirror image (similar to an open book, therefore the name "book match"). The mirror image effect is especially apparent when vividly figured veneers are selected.

Single book matching is the term used to describe successive turning over of two veneer leaves on top of each other in the flitch like the pages in a book and edge-joining them along a longitudinal or transverse joint. Accordingly, in double book matching, every second of four veneer leaves lying on top of each other in the flitch is folded open about a vertical and horizontal joint. This is how veneer matches with cross-joints are produced, which can also be diagonal.

Slip matching can also be called pull matching results in matched veneer that overall is more smooth and steady. In slip matching, the sheets lying on top of each other in the pile are placed next to each other in a row without turning them over or around. The result is a repetition of the veneer structure or figure without symmetry.

The veneer sheets are then glued (= spliced), either with the zigzag gluing method the veneer sheets are joined by a glue thread. This is alternately placed on both veneer sheets as they pass through the machine or they are butt glued the long sides of the veneers are wettened with glue and are glued together.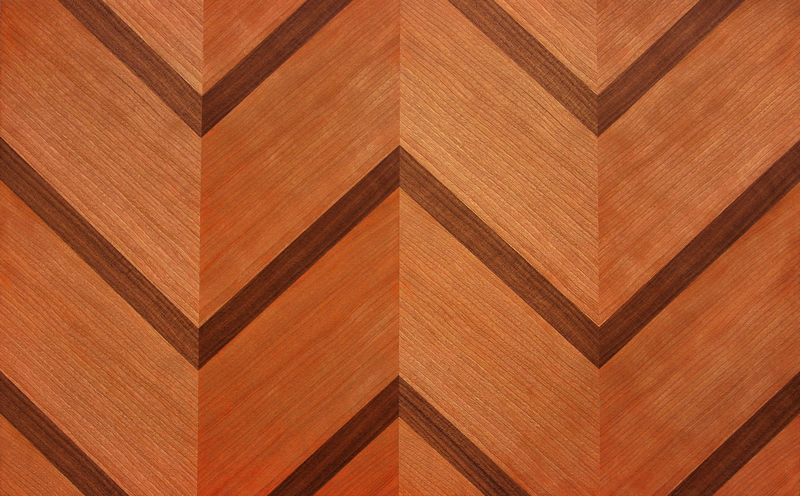 Jointed veneers. Source: Kiefer Furnier + Design GmbH und Co. KG
Laminating and overlaying with veneer
What would a luxury car be without a fine dashboard, steering wheel or gear stick? Veneer makes no small contribution to the attractiveness of fine cars. Laminated or backed veneers are used. They are also used for more mundane things, such as covering door rebates or for sheathing profile strips.

Its particular stability, which predestines laminated veneer for this use, is thanks to the veneer's backing layer of nonwoven or paper. This facilitates its further use and processing enormously and enables it to be used not only on the surface but also in multi-dimensional Projects.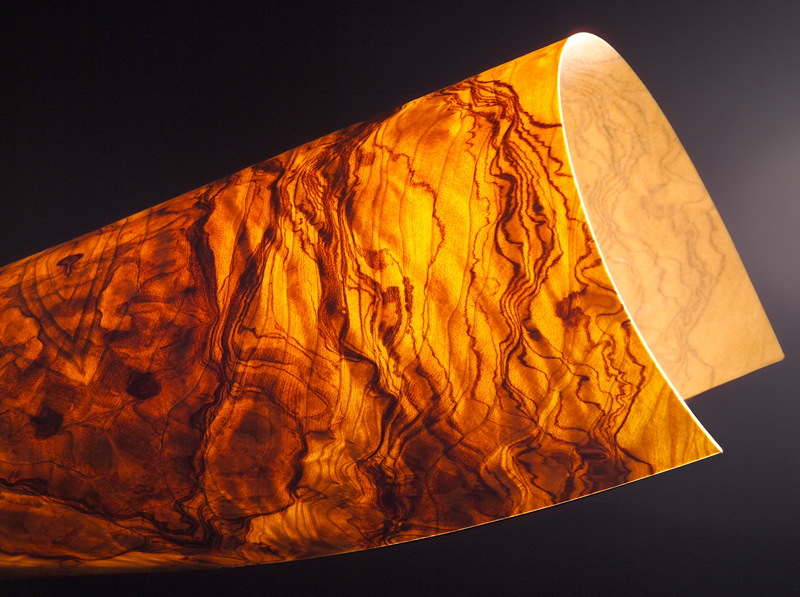 Non-woven laminated veneers, Source: Schorn u. Groh GmbH
Laminated veneers are also used in the production of real wood laminate. In this case the back of the veneer is laminated with paper impregnated with synthetic resin. The surface coating is made from high-quality lacquer or a melamine resin layer (overlay).

The resulting real wood laminated can be processed in the same way as a high-pressure laminates (HPL); however, it is significantly more flexible. Here, too, further processing does not only have to be on the surface. Even curved components can be covered. There is no need for sanding and varnishing or lacquering, as the surface is already coated.
Schematic diagram of a real wood Laminate. Source: www.oberflex.fr
Shaping and designing
Anything but flat! Veneer can not only be used on surfaces as face materials. Its properties and all kinds of different new methods and processes enable this fine material to be handled very flexibly. This opens up numerous new design options. .
Laminated veneers
Multi-dimensional deformations and difficult to use substrates are no problem thanks to veneers with a special nonwoven or paper overlay on the back – by the way, a very flexible variant of nonwoven backed (laminated) veneers, which is particularly convincing due to its uncomplicated processing and further use. All wood species can be made into laminated veneers. Even figured veneers become completely smooth with this technique.
Flexing
Nonwoven backed (laminated) veneers are made even more flexible by so-called flexing (during which the backed veneers are subjected to special pressure treatment in a flexer (roller press). As a result of this pressure treatment, the wood microstructure is broken down and changed so that it becomes very supple and flexible.) It can then be easily used to sheath profiles, to form corners, curves or edges and withstands higher stresses.
Finishing of wood veneer
Veneer does not only cut a good figure in its pure form. Completely new colours can be achieved, for example, by using different finishing techniques. And attractive, unusual designs and matched veneers are the result of special joining techniques.
Thermally modified veneer
The trend towards dark timbers continues. Thermally modified veneers of domestic wood species are an environmentally friendly and very attractive alternative. With this technique the wood is modified by the effect of heat. Depending on the treatment intensity, different dark colours result, which can definitely compete with natural dark timbers with regard to their appearance.

Colours of thermally treated Wood. Source: Mirako GmbH
Smoking veneer
Another way of making dark veneer is so-called smoking or fuming. In this staining method, which has been used for 150 years, the wood ammonia fumed for several weeks. All woods rich in tannin are suitable for smoking, for example, Oak, Pine, Larch, Wild Service, Apple Tree and Douglas Fir.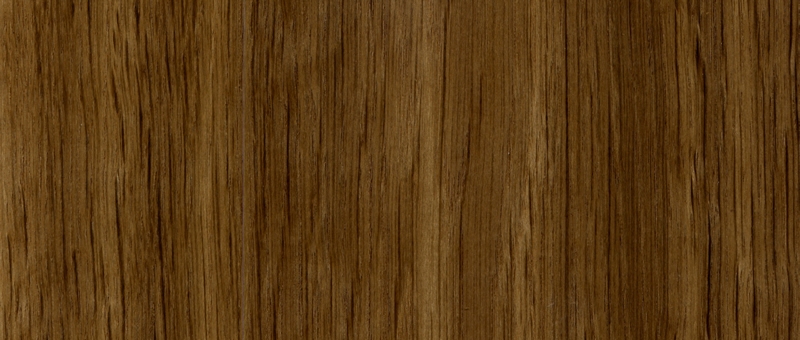 Colour of a smoked oak, Source: Mehling & Wiesmann GmbH
Veneer matches
Fineline veneers (veneers of different wood species or dyed veneers of different shapes and compositions are glued together to form veneer blocks. New veneers are then sliced again in a special process). The result is wood imitations, but also exclusive design veneers, for example, with stripes or ribbons, crowns or fancy, imaginative patterns.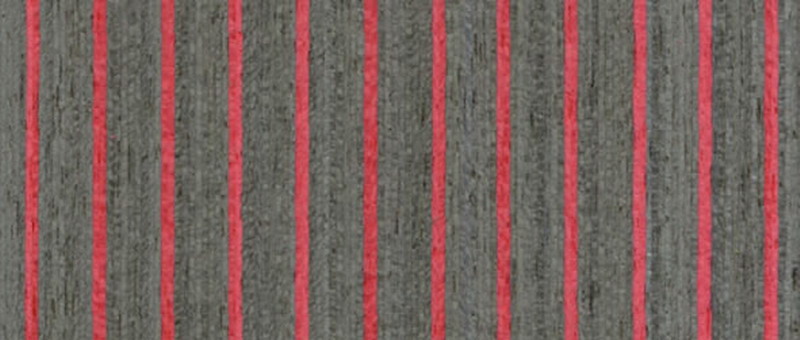 Striped veneer, ALPI. Source: TU Dresden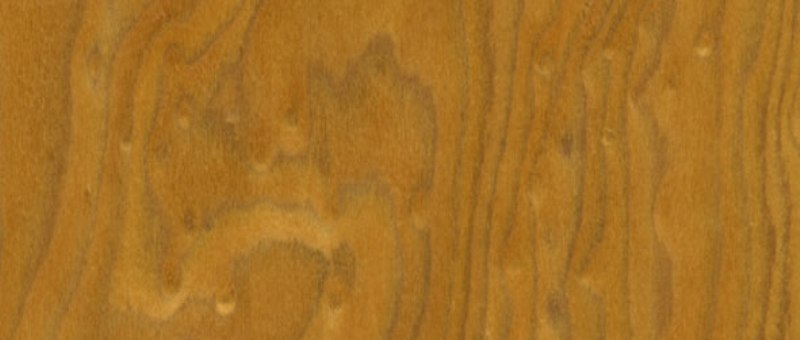 Cluster veneer. Source: TU Dresden
Surface treatment
The final stage of the veneering process is the surface treatment of the veneer. A protective coating is applied to veneers to increase their resistance and durability. A very important effect of this is the "priming", i.e. the stronger contrasting of the veneer patterns and colours (figure). As a pleasant "side effect" the visual appearance of the veneer is also emphasised as a result. Different materials and methods are used for the surface treatment.


Pretreatment methods
Before the surface treatment the veneers must be given a fine sanded finish, to enable the subsequently applied protective coating more durable. The sanding should be carried our near the surface coating (max. 24 hours between). Before the surface treatment, bleaching methods can be used to harmonise colours or to remove stains. It is also possible to reduce subsequent colour changes. The deresination (resin removal) of the surface also sometimes takes place before the wood stain, varnish or lacquer is applied.


Types of surface treatments
Staining
Wood stains can be used to emphasise the veining of the wood or to harmonise colours. This enables different visual effects to be achieved. With the positive effect the earlywood (springwood) zones retain their light colour and latewood (summerwood) zones are dyed dark. A rustic or farmhouse style exists when the pores of open grained wood, for example Oak, are intensively dyed and therefore contrast highly with the remaining surface. Wood stains can also be used to help improve the veneer's lightfastness. However, all wood stains (except for wax wood stains) require subsequent varnishing or lacquering, as they do not have sufficient surface resistance.

Oils and waxes
Natural oils and waxes are also very suitable for treating veneers. They make the wood surface look and feel as natural as possible ("natural look"). The natural oils penetrate deep into the wood, but do not form a film on the surface. They therefore remain relatively dirt, light and water sensitive.

Waxes on the other hand form thin films on the surface, which improve abrasion, water and dirt resistance. In industrial coating, combinations of these two coatings are often used, in order to produce more resistant and breathable surfaces.

Hard oils or hard waxes result in harder, more mechanically resistant surface, but are not at all comparable to the resistance of lacquered surfaces. The natural materials used in surface treatment include shellac (lac). However, this is now only used in the high-quality skilled craftsmanship segment.
Lacquers and varnishes
Lacquers and varnishes are used both in craftsman trades and industrially. In interiors, varnishes form thinner coat thicknesses than lacquers. They are often slightly pigmented and allow the wood to show through.

Solvent-based lacquers are easier to apply. The disadvantages are the solvent emissions during application and from the end product. Due to the vapours, use of these lacquers are in sharp decline. Water-based lacquers have significantly better health and environmental properties, but are difficult to apply. Also, the visual result is often nothing like as good as the quality achieved with solvent-containing lacquers.

An interesting alternative is the "100% UV lacquers", which contain virtually no solvent. They are applied industrially to flat surfaces using a rolling process and are then radiation cured with UV light.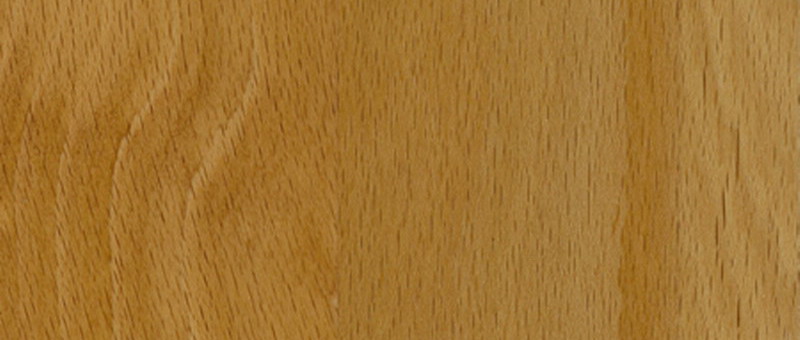 NC lacquer (nitrocellulose coating). Source: ihd Dresden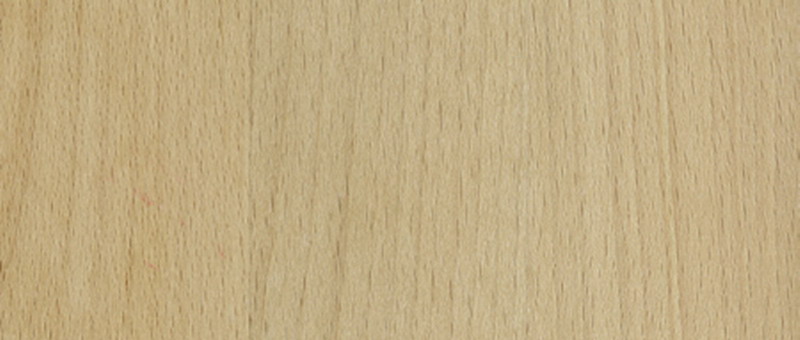 Water-based coating material. Source: ihd Dresden
Melamine-resin based overlays
In rare use cases, e.g. moulded seat parts made from veneer or real wood laminates, melamine resin impregnated overlay papers are pressed onto the veneer directly during production. They cure to form a durable, transparent, thermosetting surface. They therefore provide high protection against attrition and scratches and are also resistant to perspiration.
Veneering defects
Careful selection of the raw wood is the cornerstone laid for the production of high-quality veneers. The visual and technical quality of the veneer is continuously checked during the entire production, processing and veneering process.

While wishing for a perfect veneer, we must not forget that it is a natural product. Wood species' intrinsic characteristics such as colour variations and different growth structures are also authenticity features of the wood and play an important role in the design of the end product. They stand for the difference between a veneered surface or a surface produced industrially from alternative materials.
Substrates for Wood veneer
Veneer per se is not an independent product. It only becomes complete when it is together with the appropriate substrate. Previously, solid wood parts were used as substrates, nowadays less heavy wood-based panels (including particle boards, plywood and MDF boards) are used.

Wood-based panels, including for example, veneered panels, are easy to machine and have universal uses. They also offer diverse design options and do well in the overall ecological assessment. Another positive factor is their low weight to strength ratio compared to other materials.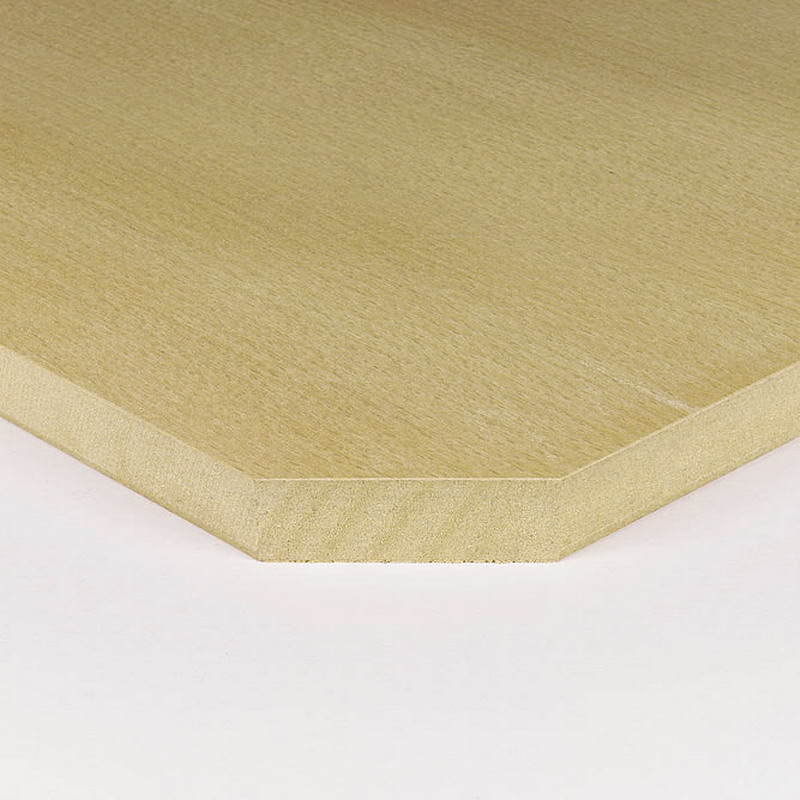 MDF board
environment
Emissions
Wood-based materials may only be marketed if they do not exceed a formaldehyde emissions value of 0.1 ml/cbm. It is already possible to glue substrates practically emissions-free. In future there will be hardly any toxic substances in the home or toxic cocktails in homes and workplaces. Thanks to formaldehyde-free glues and binders, the formaldehyde emissions of the new wood products correspond to those of natural wood.

Ecology
Wood-based panels and veneers are ecologically useful products, which help to keep forests healthy. In this context, the wood-based panel industry has an important role to play in using so-called small wood (small dimensioned wood). (Approx. 30% small wood and 70% residual wood from the woodworking and wood processing industry are used in particleboard production.) The tree is therefore almost completely used and high-quality materials can be produced from lower-quality timber.
Different types of substrates
Particleboards
Flexible/elastic particleboards are made from wood granulate, cork, elastomers and binders. They are used, among other things, in furniture production, in interiorwork, factory-built houses, exhibition stand and modelmaking and to manufacture floorings. As moulded substrates they also enable round, continuous pillar cladding as well as curved wall panelling and furniture parts.
Lightweight particleboards
Airmaxx consists of wood chips, a foamed polymer and a binder. It weighs 30% less than the particleboard usually used today. .


The particleboard made from poplar wood. This "normal" particleboard becomes a lightweight without adding chemicals simply through consistent use of natural, quick-growing poplar wood.


Boards with middle layers made of paper or cardboard honeycomb materials are very light, but are also less stable.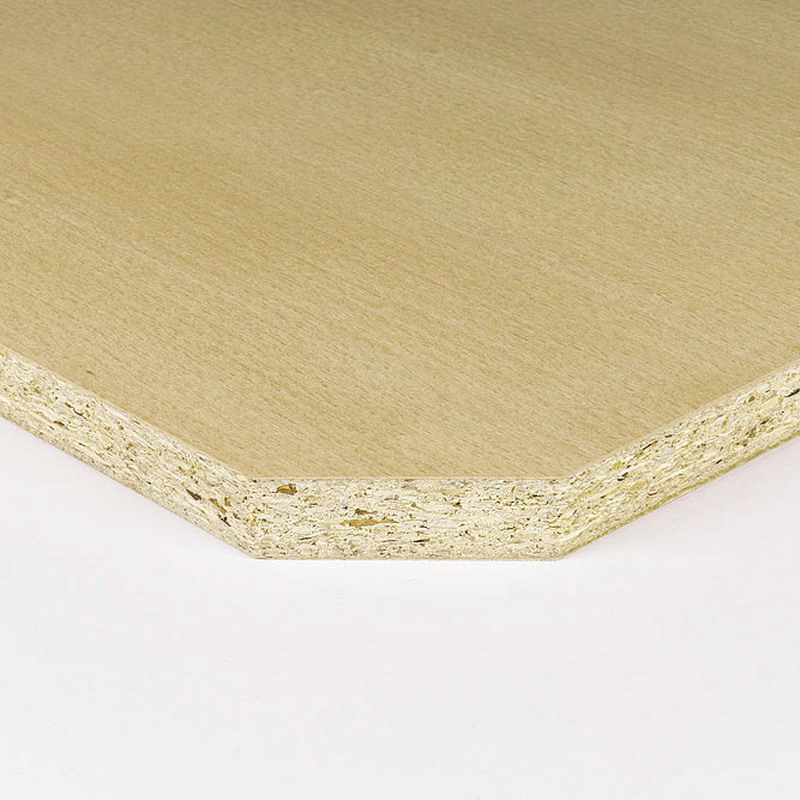 Particleboard
Plywood
Veneer plywood is made solely from veneer layers


Multiplex boards: Boards over 12 mm thick and with at least 5 layers of veneer. In general, rotary-cut (peeled) veneers are used.


Blockwood and laminboard: The middle layer consists of around 24 mm wide, sawn solid wood strips or 5-8 mm thick strips of peeled veneer placed on edge. A face veneer is then added to both sides of the three-layer board.

Five-layer boards have a crossband layer and a face veneer. Thanks to the level and smooth surface achieved in this way, blockboard and laminboard are ideally suitable for the production of high-quality furniture. Formaldehyde-free glued laminboards and extremely lightweight laminboards based on balsa wood are already available.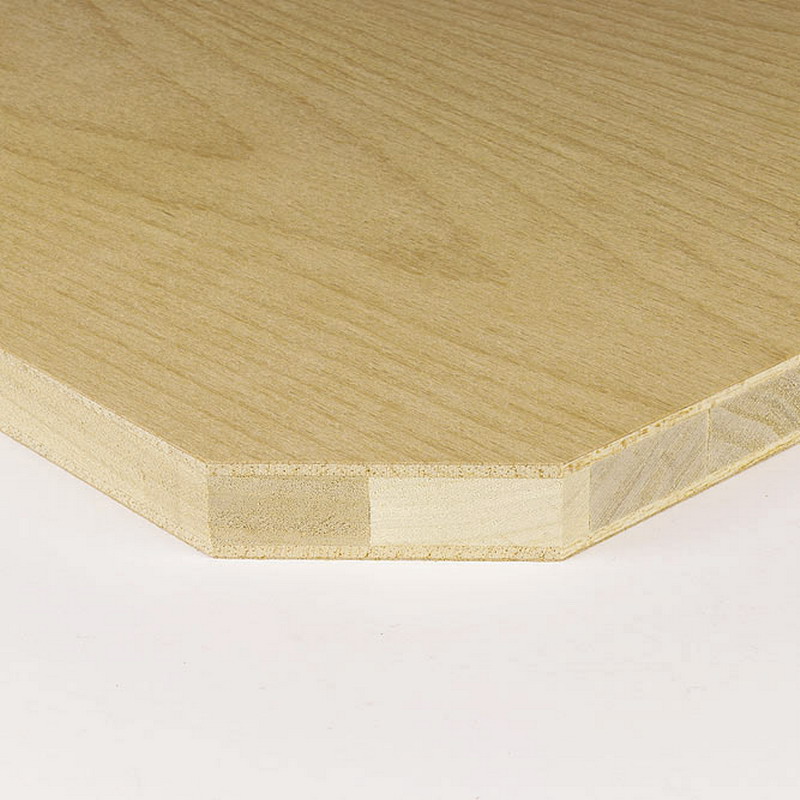 laminboard/block board
Innovative materials
In recent years wood-based materials have been further developed not only in regard to their weight. Fire safety is also plays an important role. In this area the manufacturers have developed new substrates, which can be used like a normal particleboard, but do not contain any flammable constituents. They are based on gypsum, gypsum composites, foam glass or mineral materials.

Glass and acrylates are also becoming increasingly important as substrates. New types of adhesives enable veneer with invisible adhesive line (glued joints) to be attached to these transparent materials. The semi-transparent panels produced in this way can be used with indirect lighting to effectively stage the wood. These substrates allow multifunctional use and virtually unlimited design options.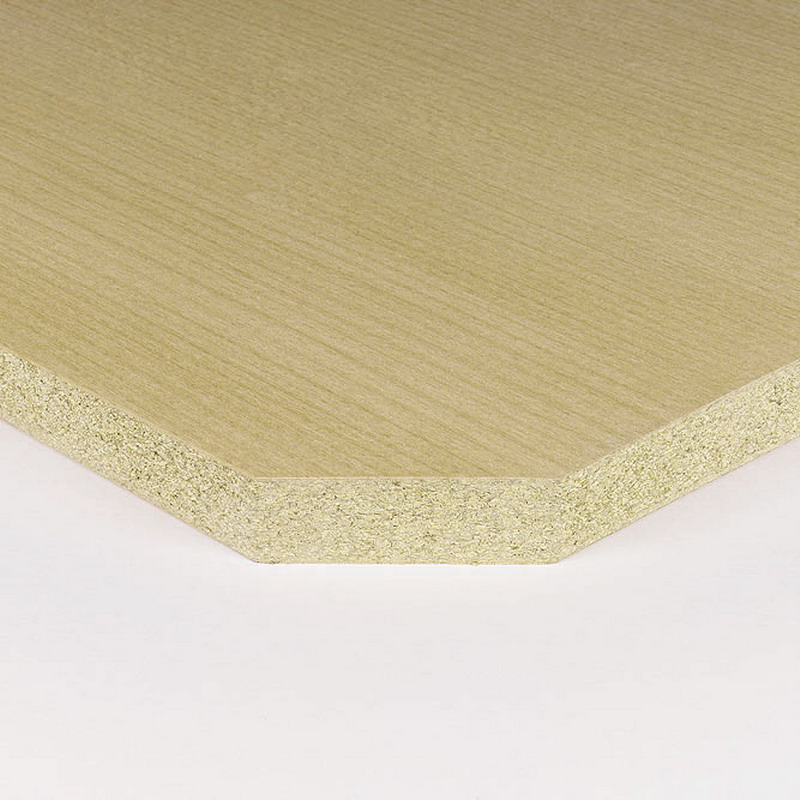 Innovative materials (fire safety)
Future
With an eye on the future, research and further development is primarily taking place in the following areas:

1. Post-formable wood-based materials. New material compositions should contribute to extending the moulding diversity of the products (moulded seats, backrests, etc.).

2. Composite materials (combination of wood and CPL on a wood particle material board). These high-quality substrates can be used for diverse purposes and enables trades craftsmen to produce high-quality pieces of furniture in a very short time.

3. Biopolymer materials and wood and natural fibre reinforced plastics. An example worth naming here is WPC (Wood Plastic Composite). This composite material, which is made up of different fractions of wood and plastics, extends the design and functional options considerably.