Facial Art
Soft and smooth, warm, unique - wood veneer is the ideal material for a pair of spectacles. A manufacturer in Tyrol opens the eyes of the spectacles world
"You should take wood seriously. Otherwise it will do with you what it will"

Yes, Roland Wolf has a spectacles fad, no question about it. "I started to wear spectacles when I was 14, although I didn't need to", he admits. It is precisely this enthusiasm that has enabled the Tyrolean to make his firm, Rolf Spectacles, one of the hottest spectacle makers around. The spectacles from Tyrol are completely made of wood.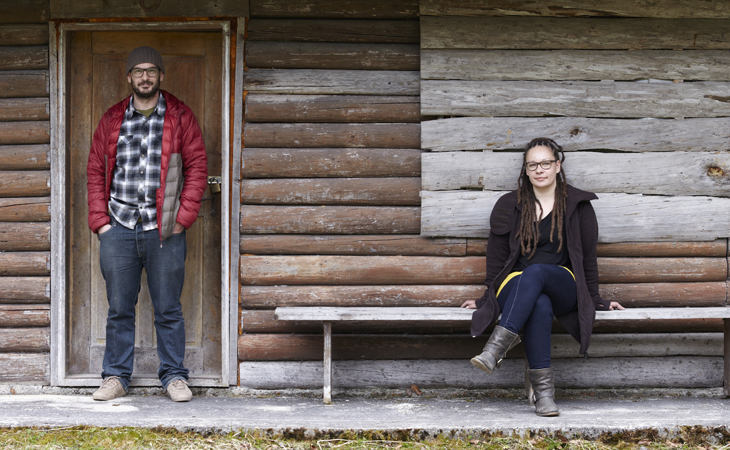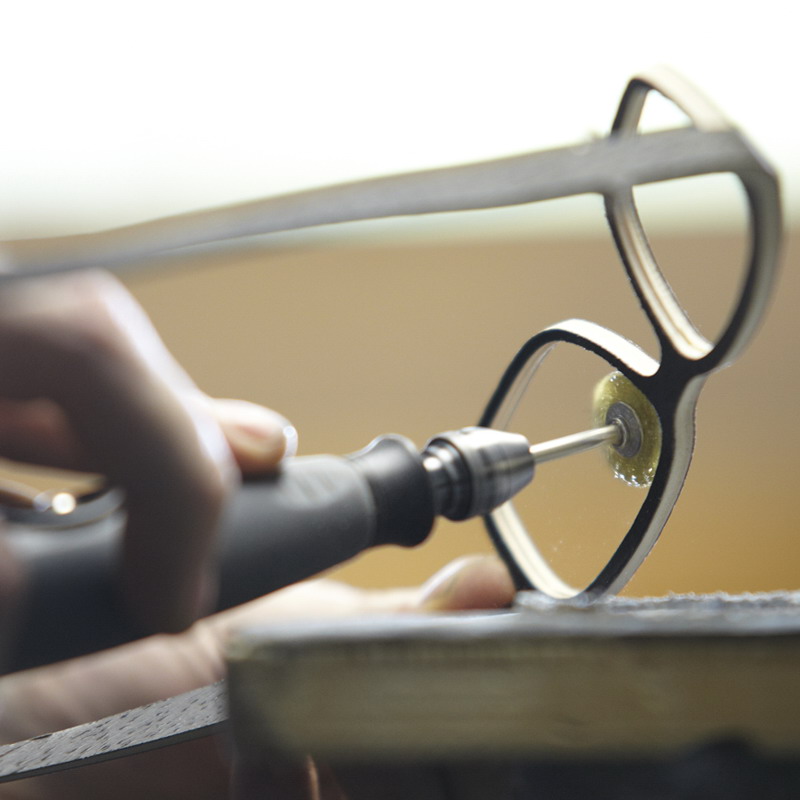 "A pair of spectacles is an optical aid, which is used to correct or assist defective eyesight" is the dictionary definition, but in fact spectacles are far more than that.

Imagine a professor without their old fashioned nickel spectacles, a hipster without their horn-rimmed spectacles to match their beard or Karl Lagerfeld without his black sunglasses. The spectacles are always an expression of the wearer's own personality. Individuality is everything.

Spectacles make fashion and are repeatedly a subject for new design. With veneer, Roland Wolf has discovered a completely new material with which to design his spectacles. The veneer gives the surface its natural grain and makes each individual pair of spectacles a unique item that has no exact equal anywhere.
DESIGNER

Roland Wolf & Maria Iljazovic

Spectacles made of wood, stone and horn. 70 different models and material combinations. ROLF spectacles are hand-made. And not only them: From the samples case to the complete trade fair stand, ROLF designs and makes the firm's whole appearance itself.

www.rolf-brillen.at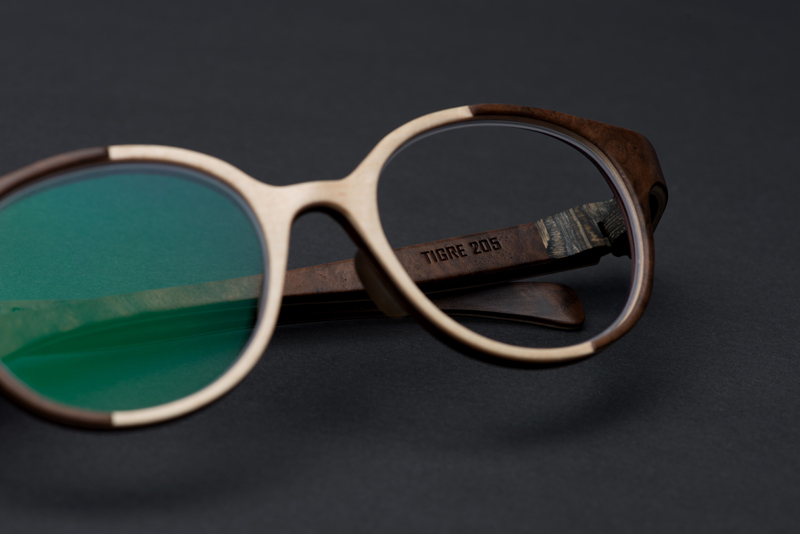 Interview with Roland Wolf, founder Rolf Spectacles


Spectacles nowadays are once again cool accessories. What is your basic preference for spectacles: Would you rather have cool pilot spectacles like Tom Cruise in Top Gun or soft nickel spectacles à la John Lennon?

Spectacles are accessories and a statement and must suit the type of person wearing them. It's about being authentic. The typical ROLF wearer is an individualist with a sensitiveness for design and technology, who is looking for and appreciates something special. At ROLF it's about more than just spectacles, each design is something special and unique.
How did you come up with the idea of spectacles? After all, you grew up in the sleepy Lechaschau (Austria). Wouldn't you normally become a ski instructor or run cosy holiday apartments there?

Our home, in the middle of the Tyrol Mountains, plays a very large role, and we remain true to our roots. There are several stops along the way to ROLF spectacles, including running a snowboard school, restoring old-timers through to optics vocational training and several years spent in sales. The rest is history!
Spectacle frames are generally made of plastic. Why do you make spectacles out of wood?

Wood is an interesting material and was always used a lot by us in the home. At this time it was a rarely used material in the industry. Wood lives and each wood species has its own special features. By using natural materials such as wood, each pair of spectacles becomes one of a kind.

What is the particular challenge when working wood, working with veneer?

During the long growth phase the tree develops its unique structure, which is differs in strength, size and texture. It therefore quickly becomes clear that the material must be handled individually. Wood is not a homogeneous material. You have to choose the right tools in order to achieve optimum materials to keep the material in shape and to be able to work it.

Some wood species become lighter with time, others become darker. If the wood absorbs moisture it swells. If moisture is withdrawn from wood the material shrinks. The raw material must be selected carefully, so that the spectacles frame retains its shape. Specially developed technologies form the wood into the correct shape and climate possible distortion and stresses in the material.
But surely, not every wood species is suitable for making spectacle frames? Which wood species do you use mainly?

We give preference to woods that grow in our neck of the woods. Unfortunately, not any old wood can be used to make the spectacles. We were interested in smoked oak from the outset. It's the darkest wood species in Europe and has an interesting history. While the tree is embedded in the marsh for hundreds of years, it forms a compound which is responsible for the darkening.
All beginnings are difficult. How long did it take from the idea to the prototypes through to the first spectacle frames suitable for Marketing?

In 2007, we began to cut spectacle frames in our parents' cellar with the simplest of tools. The first prototype was finished after only a month, but the result was far from satisfactory. We then had to acquire many things. CNC cutting, develop a pressing method and build new machines in order to come increasingly closer to our present day spectacles.

We presented other prototypes at the Opti 2009. For the first time we were able to judge the responses to the product. It produced enthusiasm, but the required spectacles quality wasn't achieved due to imprecise working. The hinge was optimised and the processes revised. In August 2009, the first "perfect" Rolf spectacles were submitted to the Silmo trade fair in Paris for the Silmo d'Or Award. The nomination for the Silmo d'Or, a very well known and highly respected award in the optician trade, was unbelievable enough for us, but to win was inconceivable!
It is true that you borrowed the milking machine of a neighbour to make the first prototypes? What did you do with it?

Our spectacles are independent where the material and production technology are concerned. Almost all the machines have to be especially designed and modified. During the startup phase moped brakes, old cylinders and much more were converted as makeshift machines for the production, because of our lack of cash. In order to bend the first moulded parts, the living room table and the milking machine of the neighbour were used to press the wood. The press is still used in the development department. We now use high-precision machines in the present day spectacles production until the frames get into highly qualified hands that work them further.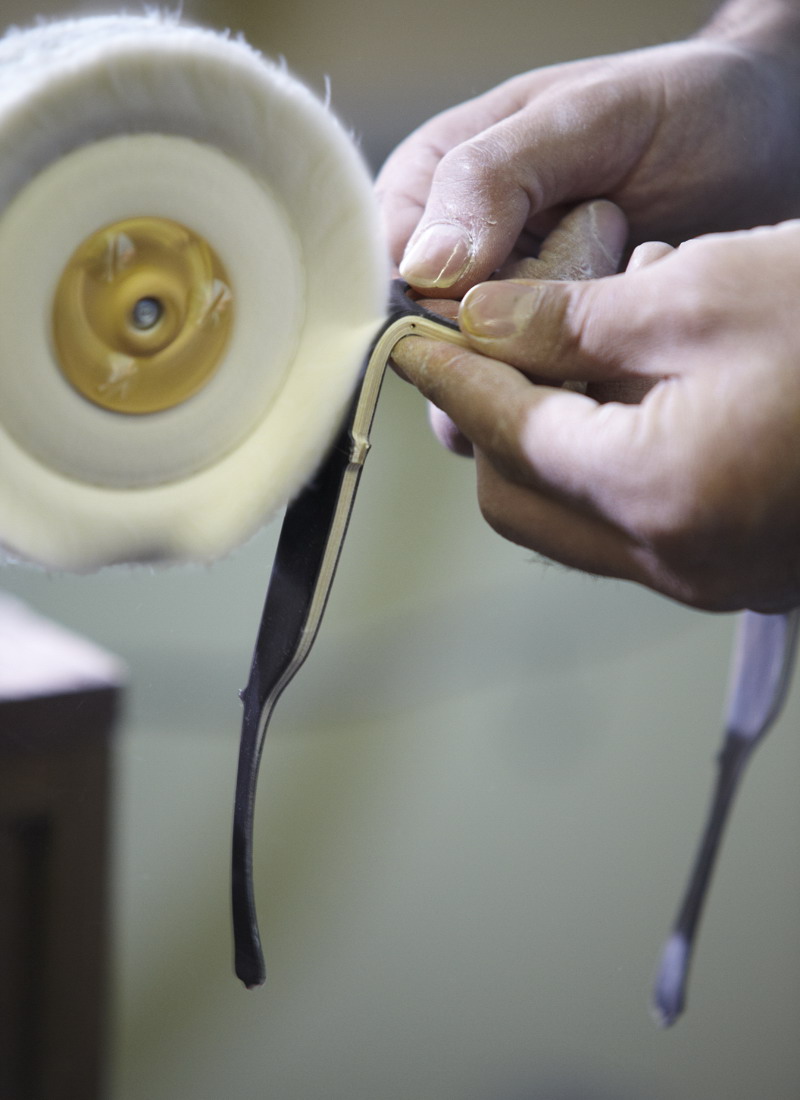 ROLF SPECTACLES glasses are pure wooden spectacles without screws. Did you plan this from the start or did it evolve? And above all, how does it work?

From the outset we set ourselves the goal of developing maintenance free and screwless joint made of wood. The patented wood joint is screwless, maintenance free and has a stop function, which prevents the side arm (temple) from touching the glass. The hinge also keeps the side arm in the correct position when open or closed and prevents it from independently opening and closing.
Wood also always stands for ecology and sustainability? Was this another reason for using wood? Are you a green avant-gardist?

Very few things are as timeless as wood. Wood has always been worked in very different ways, whether as the tip of an arrow, picture frames, work of art or as a piece of furniture. It is very important.
In 2010 you received the red dot design award for the innovative design of your spectacles. Did you ever doubt your idea to produce spectacle frames from wood?

"We follow our visions and remain true to our roots" – a creed that we live actively in the truest sense of the work. We therefore never really doubted our idea to make spectacles out of wood and other natural materials. The numerous different awards we have received over the last 5 years are proof enough. We have already won the red dot design award mentioned three times – with the wooden spectacles "Olympia 04" in 2010, the stone spectacles "Skylark 41" in 2012 and the wood-horn spectacles "Arabella 71" in 2014.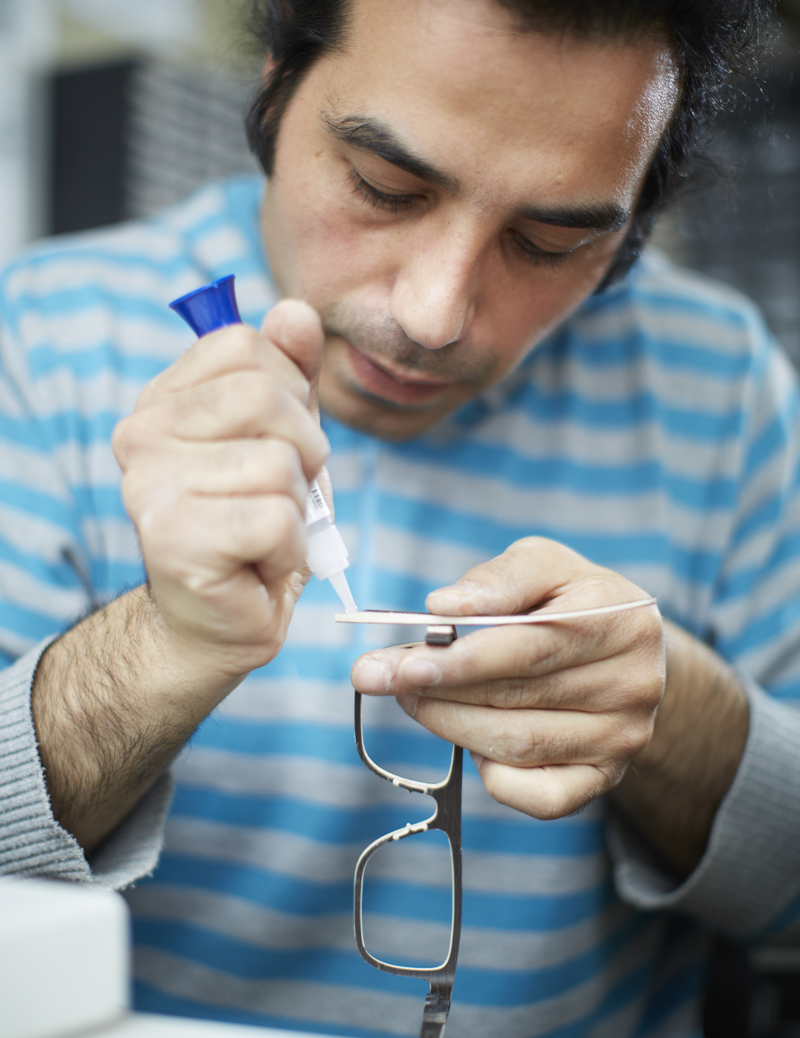 Talking about design! Do you produce the design for the spectacles or do you work with designers?

Mary is mostly responsible for the design of the spectacle frames; everything is designed and implemented in-house. The passion for old cars and spectacles are the basis for the design of each pair of ROLF spectacles, each new design bears an old-timer name.
Your spectacles made of wood enjoy a great deal of worldwide popularity. If I were to decide to purchase a model now, how long would I have to wait before it was ready?

"As we all know, good things take time", a spectacles wearer can look forward to wearing hand-made ROLF spectacles for a long time. The original ROLF spectacles are available from selected options, either from stock or with short delivery times for the good "pair".