Unusual Furniture
Fiery, cowboy-like, full of passion - that's the furniture world of Sarah Maier.
Elegant matched veneer on an attractive piece of furniture is no coincidence, because the search for the veneer tree used to make it was like the proverbial search for the needle in the haystack: Only around 200 wood species can be used for the production of veneer – and there are around 40,000 species worldwide.

And only a few conceal the fine structures required for veneer inside them. Years of experience are needed to recognise the potential of a tree. You literally have to have X-ray eyes to be able to see inside the tree trunk.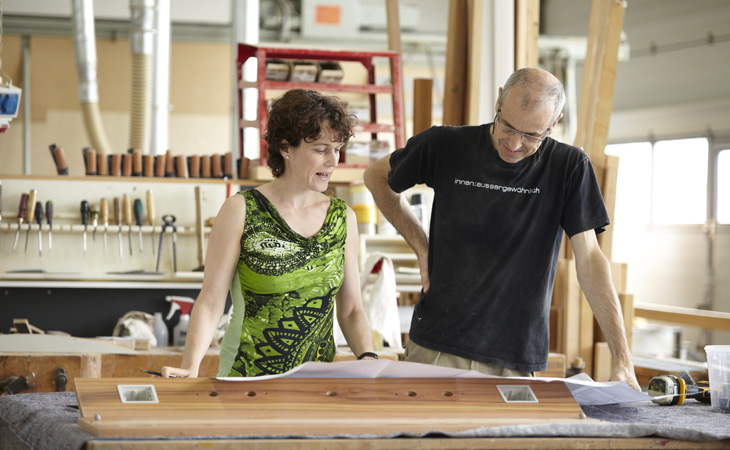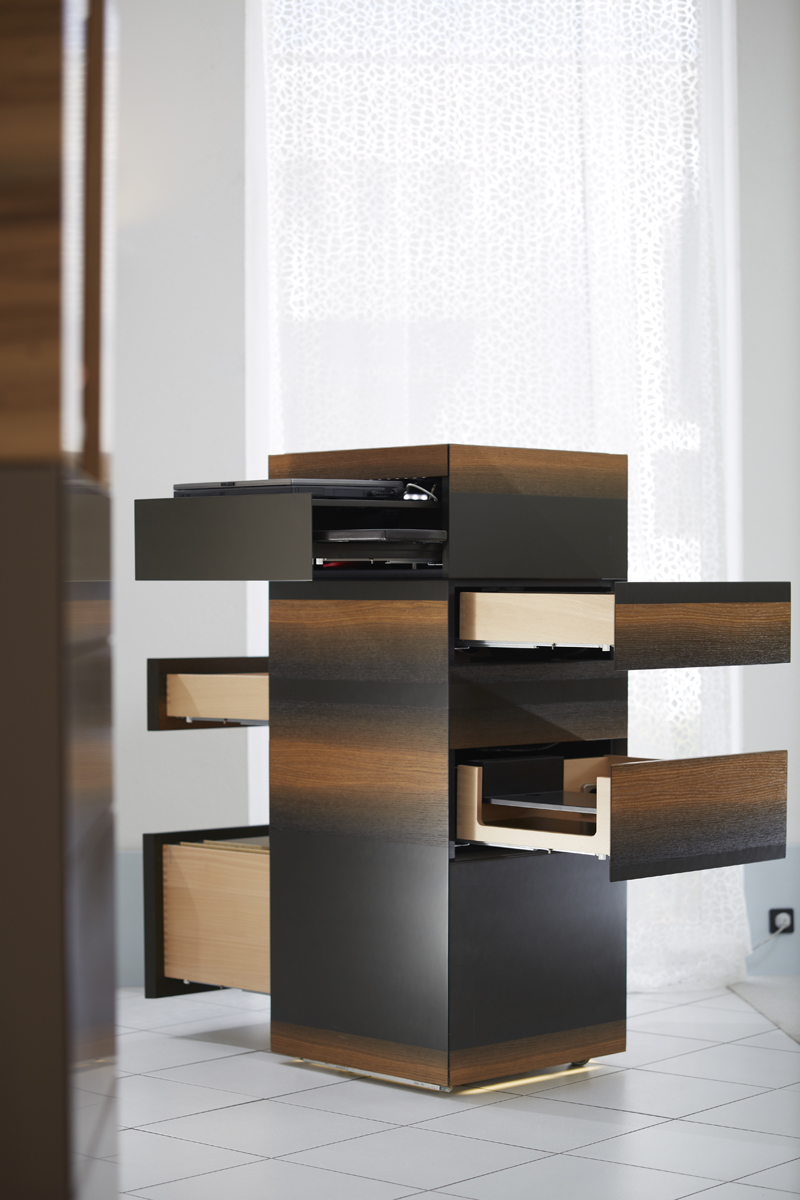 Only experts who have spent years examining the individual look and the resulting deductible properties of trees can recognise the "inner values" of the timber. They also have to consider for which matched veneer the individual sections of a tree could be most suitable. From this they have an overall picture, on the basis of which the decision is made whether to fell the tree or not.

After choosing the tree and transporting it to their company the thickness of the veneer is defined. Now a decision has to be made whether to peel or slice – and here there are in turn all kinds of different methods, which are ultimately decisive for the subsequent appearance of the best part of the tree. At the end of this selection process there is a fine veneer, a natural product with interesting surface patterns, whose variety and colouring are unique.
The veneer is then used to finish all kinds of different products. These include, for example, pianos or concert grands, the interiors of high-quality cars, aircraft and boats, the interiors of apartments and houses.

Furthermore wood veneer is used for stylish designer furniture and exclusive loudspeakers for high-end enthusiasts, as well as veneered doors or on a smaller scale, backgammon made with veneer intarsia, a mousepad or most recently, a smartphone cover.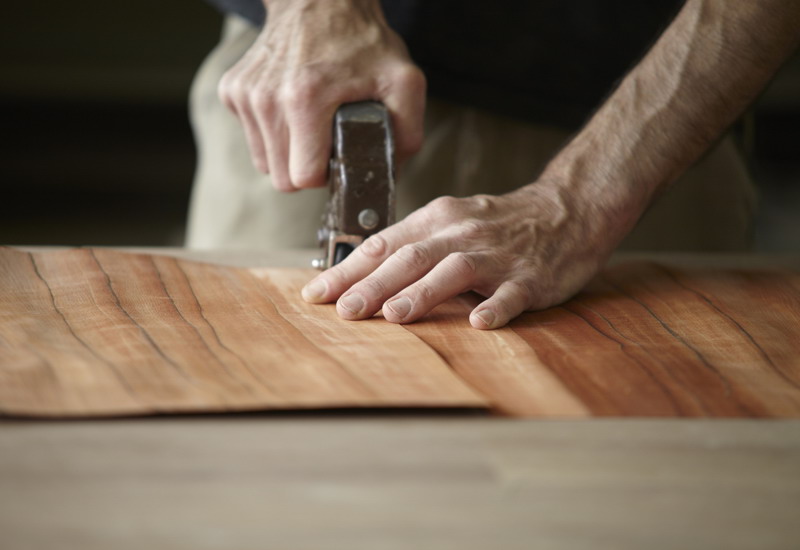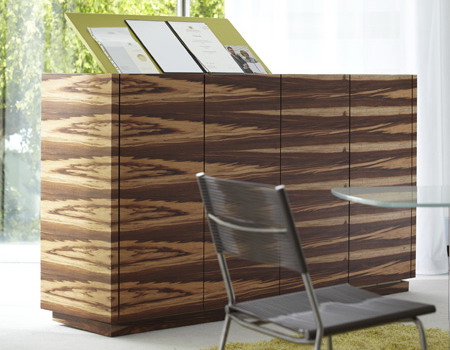 DESIGNER
Sarah Maier

Making living and working a special experience, searching for meaningful and timeless solutions: This is the great passion and art of Sarah Maier.

www.sarahmaier.de

Interview with Sarah Maier, Managing Director of Ursula Maier Werkstätten GmbH


Your company is 104 years old. Founded by your grandfather, you are now the fourth generation of Maiers to run the company. Do you sometimes find it a burden?

A family tradition is always a mixture of pleasure and burden, opportunity and restriction. Anyone who is able to live in this duality of inspiration and innovation is blessed.
With your Sarah Maier collection you unite absolutely good, usable design with high quality and always in conjunction with veneer. For your latest furniture you use poisonwood. Where do you get the inspiration for such furniture?

In the case of my latest piece of furniture, the highboard made of poisonwood, the inspiration definitely came from veneer. It was so exciting and substantial, that I thought of a free-standing partition with erectable surface.
You have a very deep and intimate relationship with the material wood. Which property of wood do you find the most interesting?

If you allow me to answer philosophically: Wood is the longest companion of us humans. As a material it represents reproducibility, transience, change through maturity, and endless individuality. Just like us humans. Wood smells good, is warm on the skin, flexible – all important characteristics of a good friend!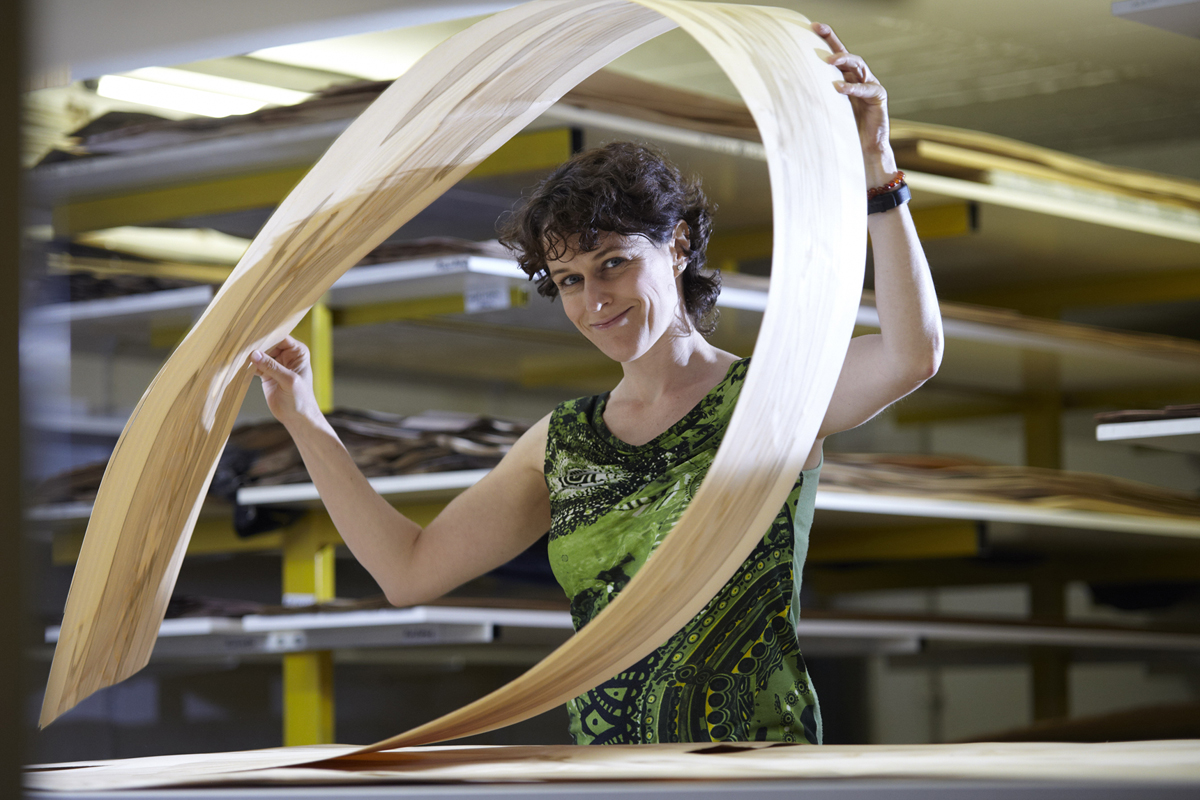 But your true passion is for veneer. Where did you get this fascination? And precisely what is it about veneer that fascinates you?

If you saw open a tree, every wood looks different. You will never find two pieces of highly characterful heartwood that are identical. Therefore, designing with unusual veneers also encompasses an element of finality: There is no second chance, and no duplicates either.
And if you have an idea. How long does it take from the idea to the finished piece of furniture?

That's the problem with creativity! If I am ready, it happens in the moment in which the ink touches the paper. But being ready is not always easy (laughs heartily).
Do you sell your pieces of furniture only in Germany or do you have customers abroad?

The laptop tower and the walnut kitchen block with magenta coloured worktop especially, are also very popular in the USA. I hope to develop a clientele in both Russia and China soon.
Be honest. Does it sometimes hurt, if you've made a particularly great piece of furniture and then have to "relinquish" it.

(Thinks about it). Not really, no. My greatest joy is the pleasure of the people that live with it. And if I couldn't pass on the pieces, I wouldn't be able to produce any new ones.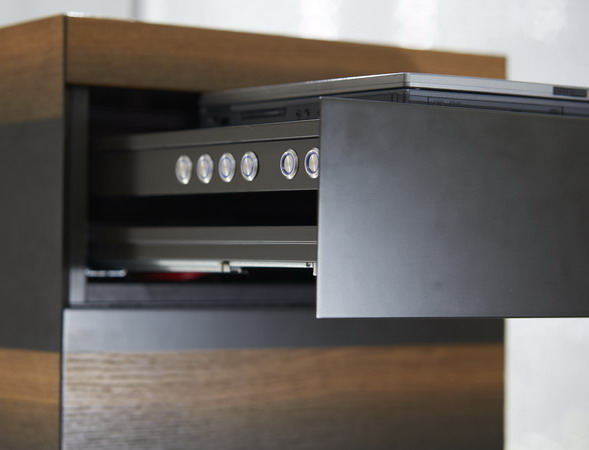 And finally: What about your own home? Do you have purchased furniture or do you only have self-made furniture in your house?

I naturally have many fitted item from my own carpentry workshop at home, especially storage space (by the way, I wholeheartedly recommend it, because it makes it so much easier to live aesthetically). I also live with some pieces of furniture which, for example, by father made and a fewer number made by my great grandfather. Nonetheless, I also love some designer pieces from other firms, especially when they are made by other crafts and trades, such as metalworking, stonemasonry, etc.

What I have tried again and again and each time failed: Cheap furniture passed on by previous tenants or given to me by friends, I can only bear it for a very short time. I need high-quality around me; otherwise I would rather continue to live like I think – out-of-the-box.