Wood veneer sounds good
Veneer gives drums not only a unique look , but also a unique sound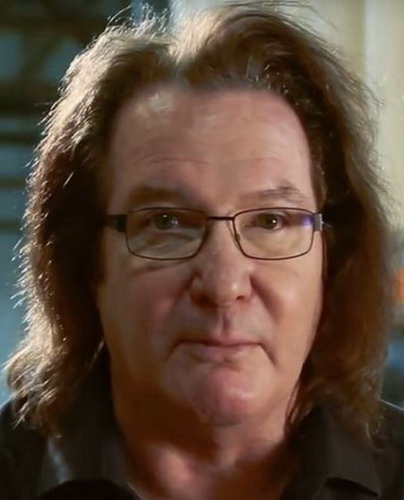 When he was 17-years-old, Drum Workshop Inc., executive vice president and drum designer, John Good began drumming lessons with Southern California drum teacher, Don Lombardi at his teaching studio, "Drum Workshop." After three months, Lombardi confessed to Good, that while he had many students who would have successful careers in the music industry - John would probably not be one of them.

Indeed, Good would never go on to have a successful career as a working drummer, but his influence on the drumming world would prove to be even more impactful. In conjunction with his former teacher; Good went on to launch Drum Workshop, Inc, and the rest is history. Affectionately nicknamed, "The Wood Whisperer" by none other than legendary Rush drummer, Neil Peart – Good is world-renowned for the depth and breadth of his knowledge of wood veneer and its resonant properties.
Not only does wood veneer make DW drums aesthetically beautiful to look at, but each different type of wood veneer used in different configurations affects the sonic properties of the drums themselves. John Good had a very early interest in how the different wood veneers used in making DW drums influenced the sound a drum produces. Good is one of the few people, who recognizes not only how different types of wood affect the tone, pitch and resonance of the drum.

But he is also a pioneer in the world of researching how tensions produced by different grain configurations (horizontal/vertical/diagonal) affect drums' sonics.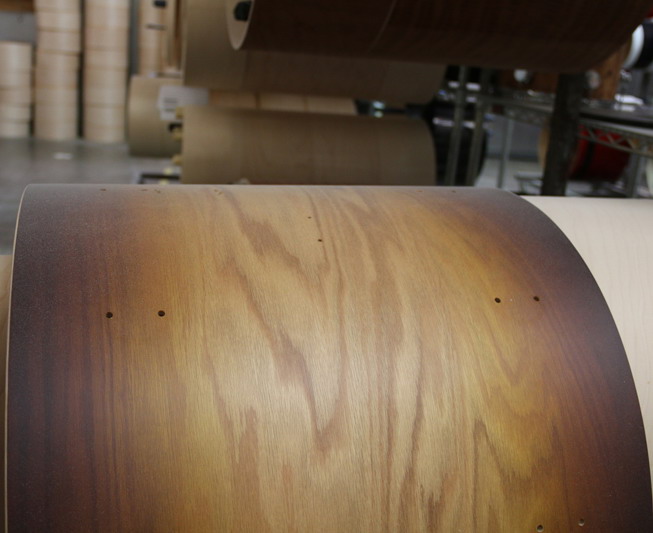 Even after 40 years of working and experimenting with veneer, Good is still fascinated by the natural material and is always on the lookout for new veneers, which might be suitable for manufacturing drums.

In 2014, the company expanded to include other iconic American instrument brands including Gretsch Drums®, Latin Percussion®, Toca Percussion®, KAT® Technologies, Gibraltar Hardware® and Ovation Guitars®.

DW's wide range of products is endorsed by many of the world's top artists including: Neil Peart, Charlie Watts, Chad Smith, Phil Collins, Sheila E., Melissa Etheridge, Mick Fleetwood, Don Henley and Dave Grohl among others. Drum Workshop, Inc. is headquartered in Oxnard, California.
DESIGNER
John Good

Forty-four years later, Drum Workshop, Inc. is still a family-owned and operated musical instrument company best known for designing and manufacturing award-winning drums, pedals, hardware and accessories under the DW and PDP banner.

www.dwdrums.com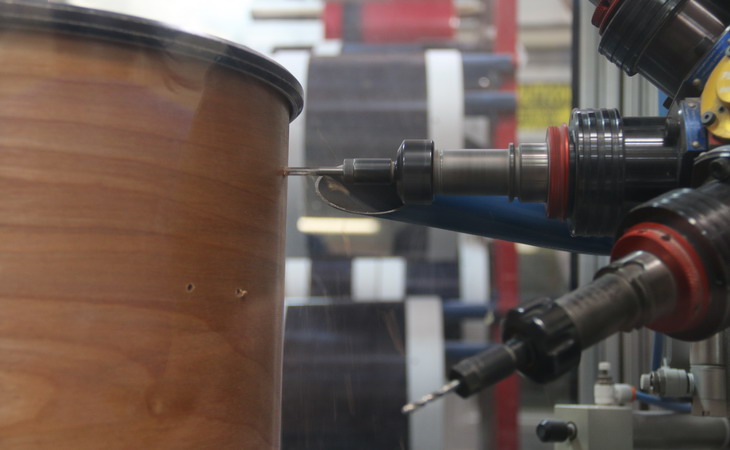 Interview with John Good, executive vice president and drum designer of Drum Workshop, Inc. Known in the musical instrument world as "The Wood Whisperer".


Since a drum manufacturer is a rather uncommon job, how and why did that career interest you?

I was a very bad young drummer. I just had a good understanding of how to make the drums sound good, I just wasn't able to play them very well.
Wood or wood veneer is THE crucial material when building a drum set. Did you feel at all connected to the material before you started creating drums? Has this affinity to wood veneer possibly changed over the years?

I was always fascinated with wood. When I realized the potential for sound variation in grain orientation, it changed my life.
Drum makers, who know their profession, can allegedly hear by the sound of the drum, which wood veneer was used. Are you actually able to hear, whether a drum was manufactured out of walnut veneer or maple veneer? Would you be able to tell us which wood veneer produces the most unusual prominent sound?

Maple has a nice, long vibration – while cherry has a dark-type sound – and birch has a fast sound with a short sustain. There are so many different sounds you can create by implementing different types of veneer. At this moment, I'm working with a cherry and spruce combination that's really exciting.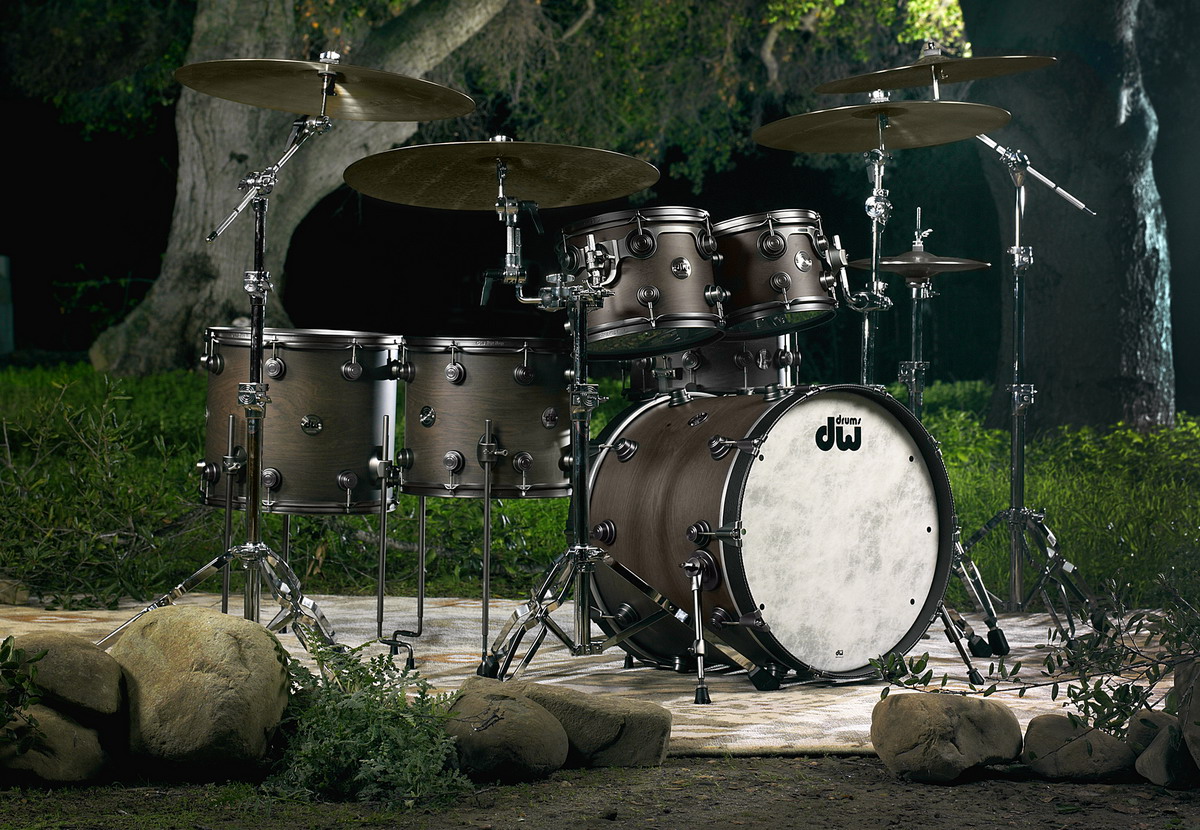 How many different types of veneer do you have on offer for your clients? And which wood veneer is the most popular at the moment?

For sound, we offer about ten different types of veneer. For looks, we offer about 45 different types. This month, oak is very popular – but next month it could be cherry – and something else might be the favourite the month after that. Wonderfully – tastes change all the time.
Are there differences in clients from Europe and the US, or is the decision for a certain veneer dependent upon which kind of music the drums are going to play. Is it therefore possible to associate rock bands with a specific type of wood veneer and soul bands with another?

These days, drummers seem to understand more of what they want to hear. I'm proud to have been part of the educational movement to promote that. Yes, different sounds do fit better with certain types of music, but it's more about his or her style of playing that makes one choose a specific sound.
Surely, you have experimented with usabilities of all sorts of wood veneers for manufacturing drums. Have you ever encountered wood veneer that does not at all work for the building of drum sets?

From banana to palm tree and everything in between – we can usually find a sound or a look and a usefulness to most any veneer.
How long does it take to build a drum set that was individually designed by a client?

Usually four to six weeks depending on our back log.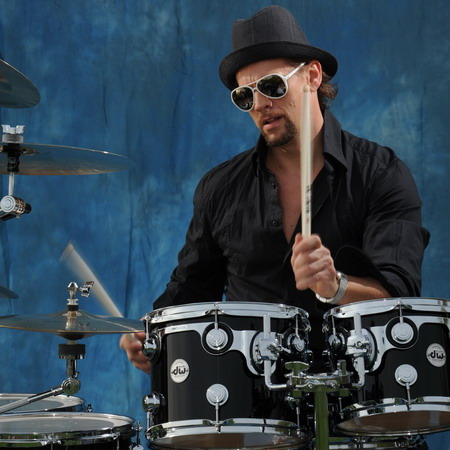 Many world famous percussionists play on DW drums. One of them is Dave Grohl, former drummer of the grunge band Nirvana and nowadays playing with Them Crooked Vultures and the Foo Fighters. Does he have a favourite wood veneer for his drum?

He's a maple/gum combination guy. We call them, "jazz shells."
And last but not least, your nickname is "wood whisperer". Who invented the term and why? What does it stand for?

Neil Peart from the band Rush gave me that nickname because I've dedicated so much of my life to the world of veneer and to understanding it.