04.01.2023
KaDeWe Berlin:
Nobel department store has escalators with walnut veneer from europlac
Bonn/Berlin. In the past, people simply went shopping for a short while; today, they go shopping extensively and for a long time. And shopping is much more than just strolling through neatly draped shelves: It should be an experience, and that is only possible with an appropriate ambience. Creating and developing such an attractive shopping environment was and is the hobbyhorse of the famous KaDeWe department store in Berlin. The renowned department store proves this with its architecturally impressive escalators, which, thanks to veneered panels and precious wood materials from europlac, shine in new, old-world splendor and invite customers to enter.
A good 2,000 square meters of veneer were used for the escalators at the back of the building. They wind up - almost reminiscent of the stairs at Hogwarts School of Witchcraft and Wizardry from the Harry Potter movies - from the first to the sixth floor in a spectacular funnel shape. If you look up now or from the individual floors to the sides of the escalators, you see pure nature: everywhere, the veneer of the American walnut used impresses the viewer. "The veneer panels and veneer ceilings used for this were manufactured at our site in Topolcany in Slovakia. These included normal and flame-retardant chipboard with veneer coating in the board character as well as 200 flexible veneer ceilings, which were used for the production of fire protection panels for the coating of round objects in the area of escalators, among other things," explains europlac Managing Director Marina Röhr.
The request for the KaDeWe project came from the Weingarten-based wood specialist Franz Habisreutinger GmbH & Co. KG, a company based very close to europlac's German site near Lake Constance. OMA, the firm of famed architect Rem Koolhaas, was commissioned for the KaDeWe conversion, and various interior finishers or fabricators took care of transforming the escalators into the current work of art. "The result is truly something to behold: Visually impressive, ecological and sustainable, and an invitation to stroll and shop extensively," finds Ursula Geismann, managing director of Bonn-based Initiative Furnier + Natur (IFN) as well as a longtime interior expert, and concludes, "Anyone going to Berlin looking for something nice for themselves or their loved ones should definitely take a look at the great design of the modernized escalators." IFN/DS
Initiative Veneer + Nature (IFN)
The Initiative Furnier + Natur (IFN) e.V. was founded in 1996 by the German veneer industry and its partners. Today it is supported by European companies from the veneer industry, the trade and the veneer processing industry as well as trade associations of the wood industry. The aim of the association is to promote veneer as a natural all-rounder.
Further information on the subject of veneer at
www.furnier.de
or
facebook
linkedin
instagram
Image 1: The escalator system alone is striking for its architecture. Author credit: Photograph by Marco Cappelletti, Courtesy of OMA.
Image 2: A look up reveals all the beauty of europlac's walnut veneer. Author credit: Photograph by Marco Cappelletti, Courtesy of OMA
Image 3: Leaving one floor, this wonderful sight makes you want to go straight to the next - and linger there. Author credit: Photograph by Marco Cappelletti, Courtesy of OMA
January 4, 2023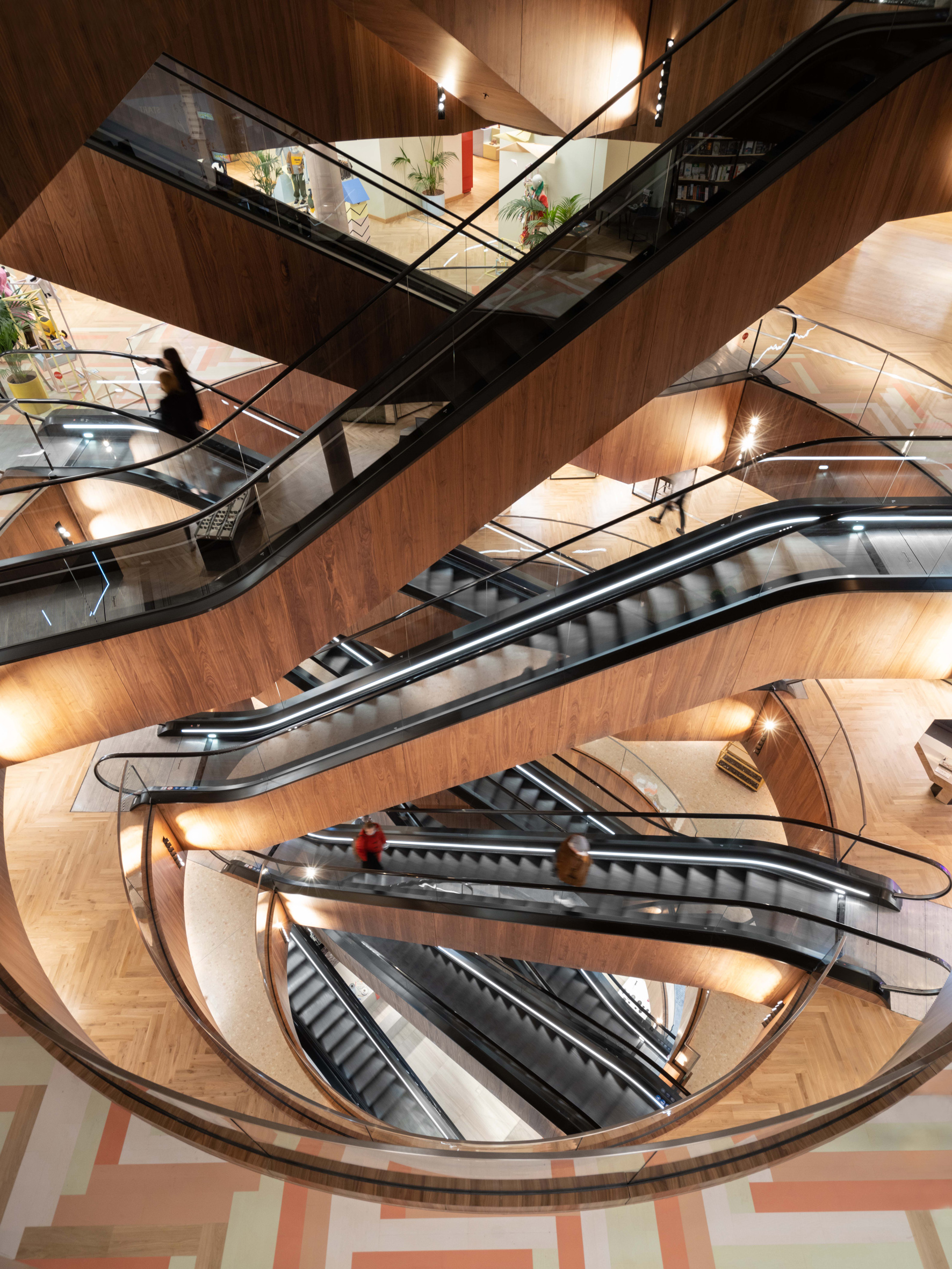 Bild 1: Allein die Rolltreppenanlage besticht schon durch ihre Architektur. Urhebernachweis: Photograph by Marco Cappelletti, Courtesy of OMA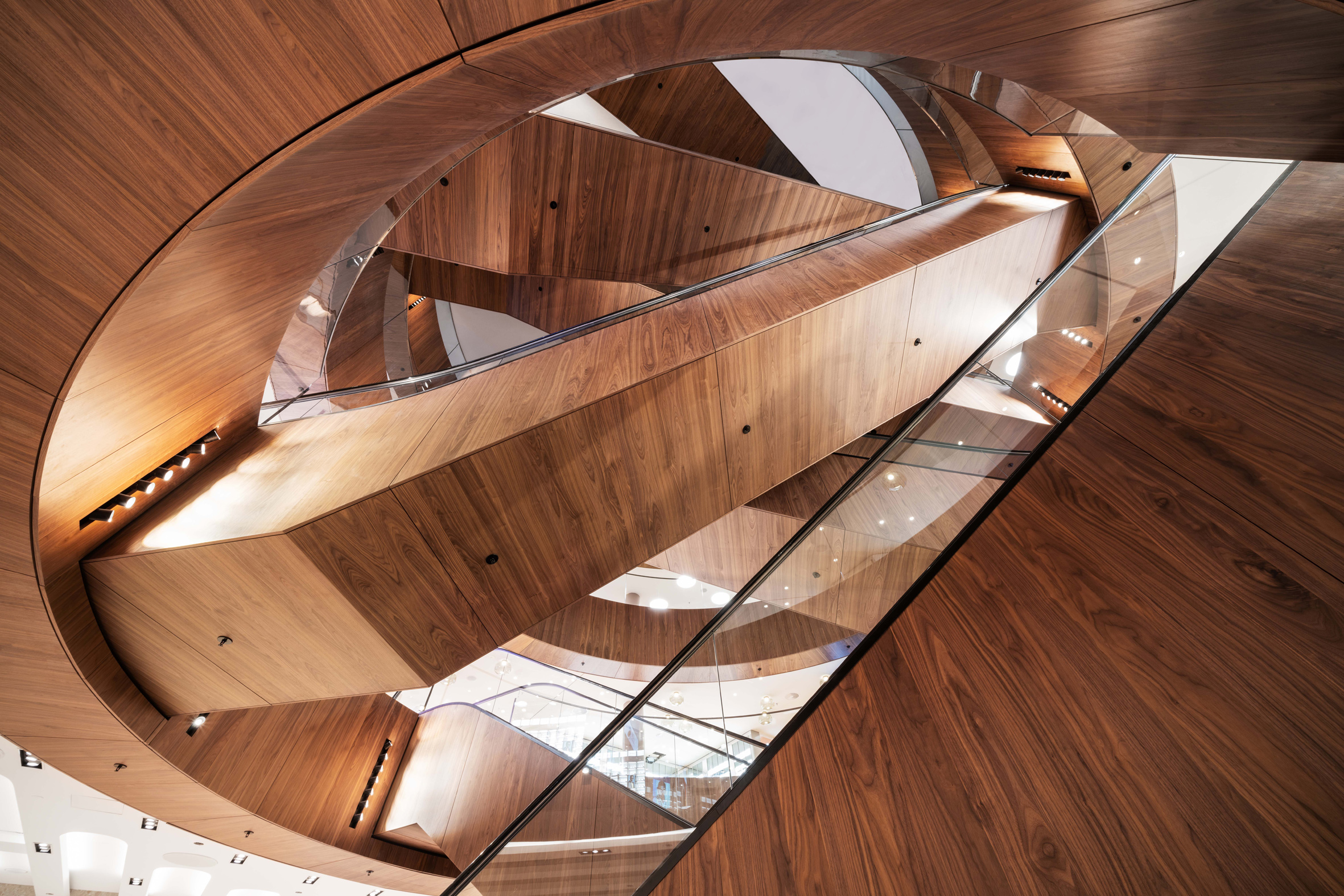 Image 2: A look up reveals all the beauty of europlac's walnut veneer. Author credit: Photograph by Marco Cappelletti, Courtesy of OMA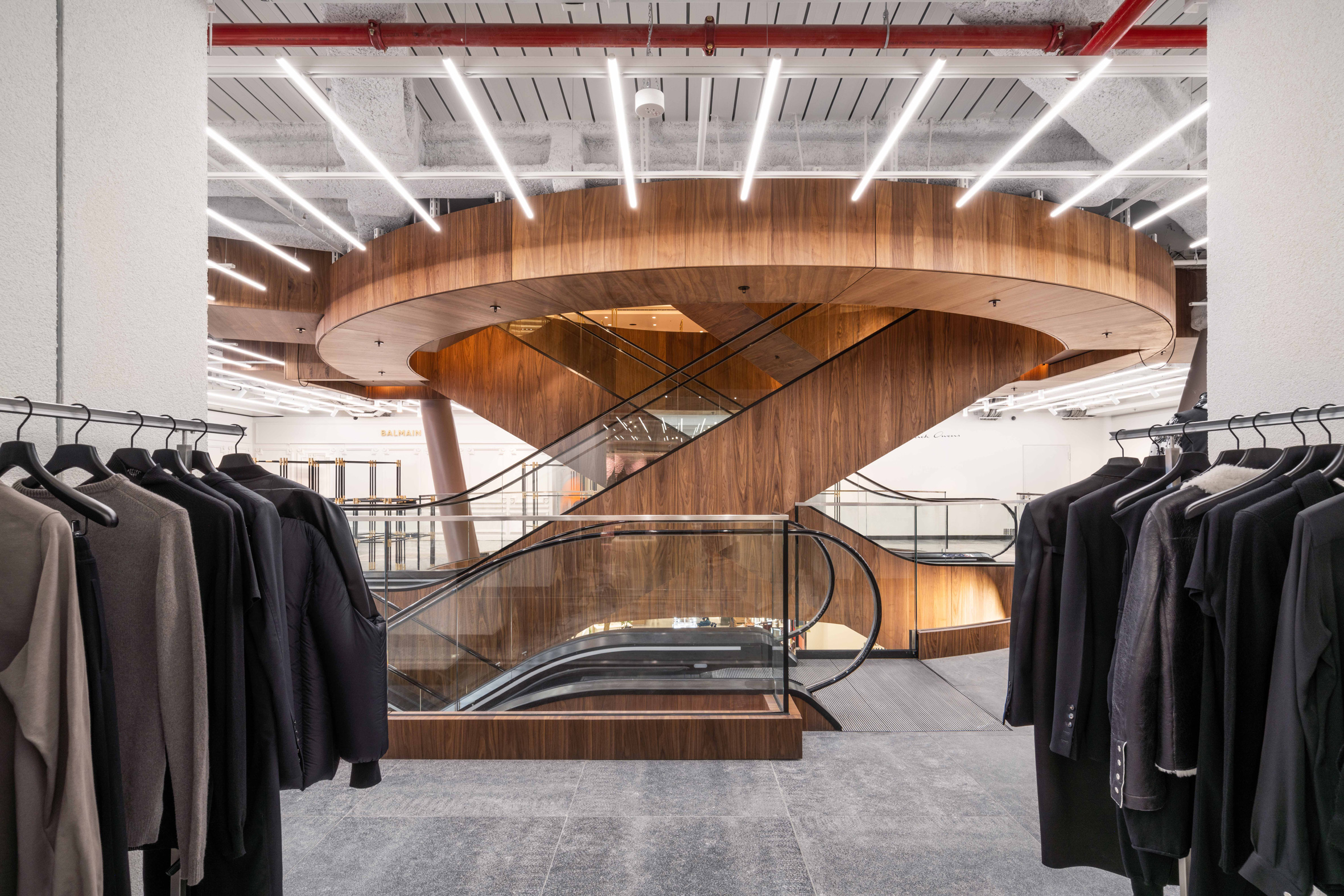 Image 3: Leaving one floor, this wonderful sight makes you want to go straight to the next - and linger there. Author credit: Photograph by Marco Cappelletti, Courtesy of OMA