19.11.2018
Illuminating design object made of veneer: Veneer lamps make walls, furniture and counters shine with a new brightness
Bad Honnef. Illuminating design objects made of fine veneer are made with precise craftsmanship by the WOODEN Germany company in Bremen. The veneer lights developed by the managing director and designer, Genrih Missal, the so-called WOODEN panel, can be used in diverse ways. "Whether as wall panelling in a hotel, restaurant or club, as a kitchen back wall, as a highlight on a reception counter or a speaker's desk, as a tabletop or even as an illuminated element in a system frame: the combination of veneer, glass and light lends each room a particular brightness and a unique atmosphere", says Missal.
Missal's enthusiasm for veneer lights unfolded during his time as development manager at a renowned company for architectural and street lighting. Fascinated by the warm light of the translucent wood, his urge to design an optimised version of this light was born. After half a year's research he finally developed a veneer light to match his idea. Properties such as durability and real wood design of the lights were givens during the development. The idea thus evolved to use a special laminating method to protect the veneer behind a glass front, for which he also immediately applied for a patent. Laminating wood behind glass makes the veneer lights weather and moisture resistant. This means, for example, that bathroom furniture can also be clad in an extremely sound way.
Missal equips the interior of the lights with state-of-the-art LED technology, to make them compatible for smart homes. All veneer lights made by WOODEN Germany can be controlled using an app via a smartphone or tablet. When selecting the wood, the company pays a great deal of attention to the origin of the veneers. Only wood from sustainable forest management is used. WOODEN Germany uses numerous domestic and European veneers such as apple, birch, oak, ash, walnut, olive and tulip poplar wood for its lights.
"The veneer lights made by WOODEN Germany are a real innovation. They can be used to show all kinds of different objects in their true light in a fascinating way. At the same time, a unique room atmosphere is created", says Ursula Geismann, Secretary of Initiative Furnier + Natur. IFN/RK
Initiative Furnier + Natur (IFN)
Initiative Furnier + Natur (IFN) e.V. was founded in 1996 by the German veneer industry and its partners. The purpose of the association based in Bad Honnef is to promote veneer as a material. It is funded and supported by European companies in the veneer industry, trade and the veneer processing industry as well as professional associations of the timber industry.
Photo 1: The bar counter completely clad with veneer lights in the StadtWIRT Restaurant in Bremen is a real eye-catcher. Photo: WOODEN Germany
Photo 2: Wall panelling made veneer lights create a comfortable atmosphere in a Bremen household. Photo: WOODEN Germany
Photo 3: Laminating wood behind glass makes the veneer lights weather resistant, so that they can also be used for bathroom furniture. Photo: WOODEN Germany
---
Downloads
2018-11-19_PM-2018-IFN-Furnierleuchten 1.jpg
(1.03 MB)
2018-11-19_PM-2018-IFN-Furnierleuchten 2.JPG
(0.87 MB)
2018-11-19_PM-2018-IFN-Furnierleuchten 3.jpg
(1.06 MB)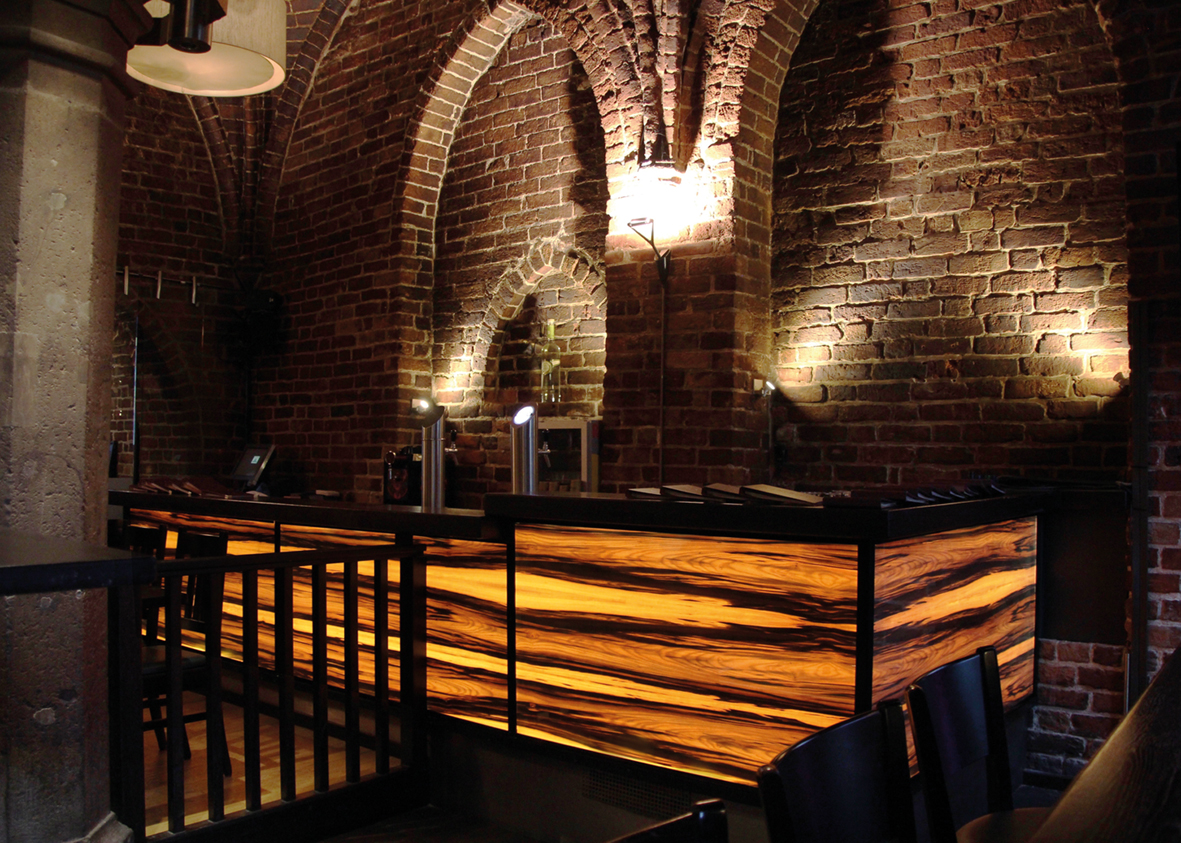 Photo 1: The bar counter completely clad with veneer lights in the StadtWIRT Restaurant in Bremen is a real eye-catcher. Photo: WOODEN Germany
Photo 2: Wall panelling made veneer lights create a comfortable atmosphere in a Bremen household. Photo: WOODEN Germany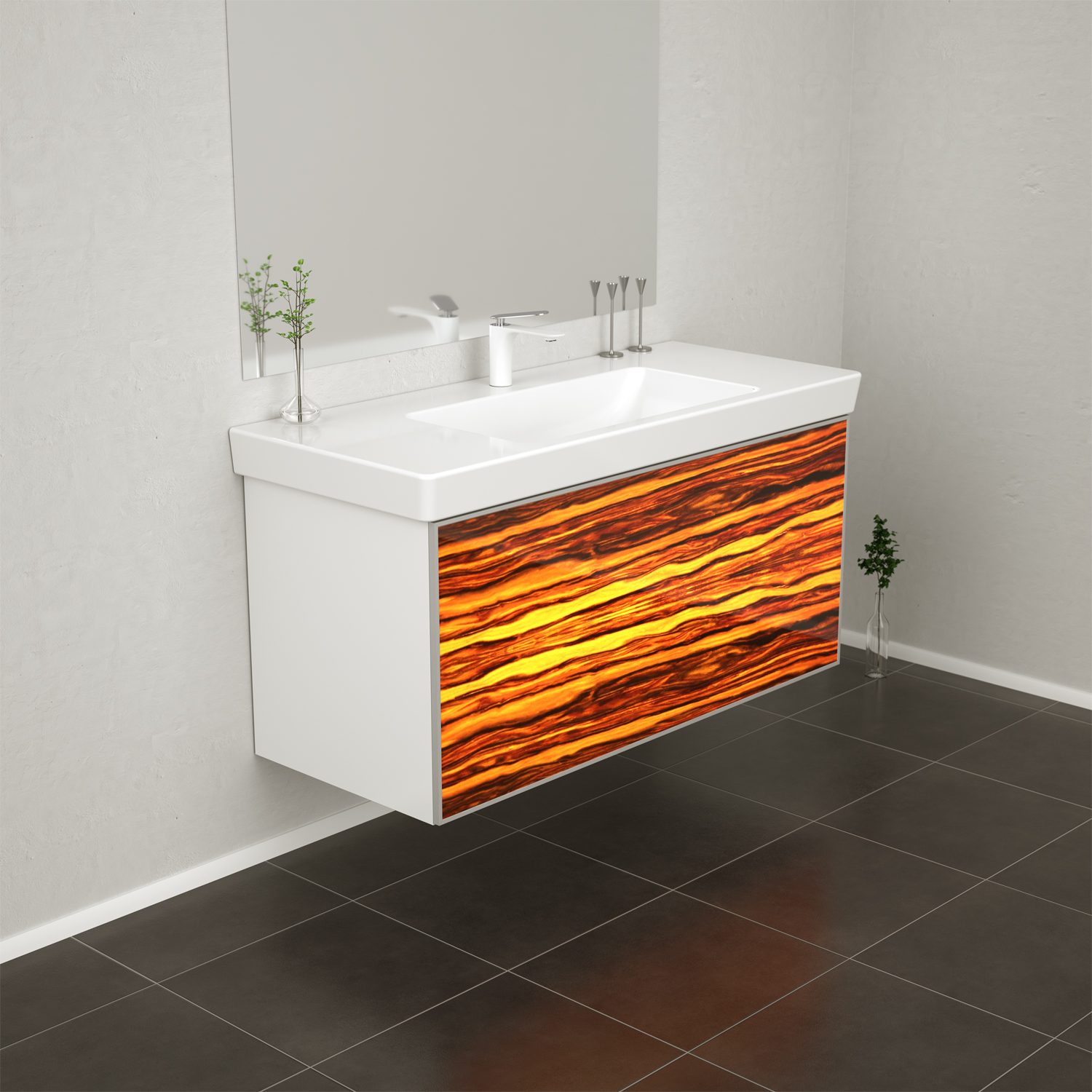 Photo 3: Laminating wood behind glass makes the veneer lights weather resistant, so that they can also be used for bathroom furniture. Photo: WOODEN Germany