05.02.2019
Finest veneer for Francis: Balti Spoon supplies birch and knotted oak veneers for papal mass in Estonia
Bad Honnef. In the autumn of 2018, Pope Francis spent four days travelling through the three Baltic states of Estonia, Latvia and Lithuania to celebrate the 100-year anniversary of their first independence. At the end of his travels he held an open air mass in Freedom Square in the Estonian capital Tallinn. The church ordered the production of an altar, pulpit and a raised chair made of veneer especially for this service. The birch and knotted oak veneers were supplied by the Estonian veneer producer Balti Spoon, a member company of Initiative Furnier + Natur e. V. (IFN). "During his pontificate, Pope Francis expressed the need for more sustainability on several occasions. Use of the sustainable natural material veneer for numerous items for his mass in Estonia accommodates this idea outstandingly well", said the IFN Secretary, Ursula Geismann.
The organisers commissioned the Estonian architect Mari Liis Bossoskaja to design the inventory for the mass. She opted for a simple, unadorned basic design for the design of the items; however, she combined it with a richly contrasting combination of birch and knotted oak veneers. The result is an altar, a pulpit and a chair in a purist style, which are nevertheless convincing due to their pleasantly elegant veneer look. This design lends the items a sober clarity as well as a timeless character and thus also fits in with the overall ambience of the mass in Freedom Square in the Estonian capital. In line with the spirit of sustainability, the inventory is also to be used for future masses in Estonia. However, it is not yet clear where. The hot favourites for the historic inventory are nonetheless a church in Pärnu and one in Tallinn. (RK)
Initiative Furnier + Natur (IFN)
Initiative Furnier + Natur (IFN) e.V. was founded in 1996 by the German veneer industry and its partners. The purpose of the association based in Bad Honnef is to promote veneer as a material. It is funded and supported by European companies in the veneer industry, trade and the veneer processing industry as well as professional associations of the timber industry.
Photo 1.:
Pope Francis in front of the altar made of birch and knotted oak veneer in the final mass in Tallinn during his trip to the Baltic states in the autumn of 2018. Photo: Balti Spoon/Olev Mihkelmaa
Photo 2.:
The head of the Catholic Church giving his sermon at the pulpit made of fine veneer. Photo: Balti Spoon/Olev Mihkelmaa
---
Downloads
PM-2019-IFN-Furnier fuer Papstmesse 1.jpg
(0.78 MB)
PM-2019-IFN-Furnier fuer Papstmesse 2.jpg
(0.7 MB)
Photo 1.: Pope Francis in front of the altar made of birch and knotted oak veneer in the final mass in Tallinn during his trip to the Baltic states in the autumn of 2018. Photo: Balti Spoon/Olev Mihkelmaa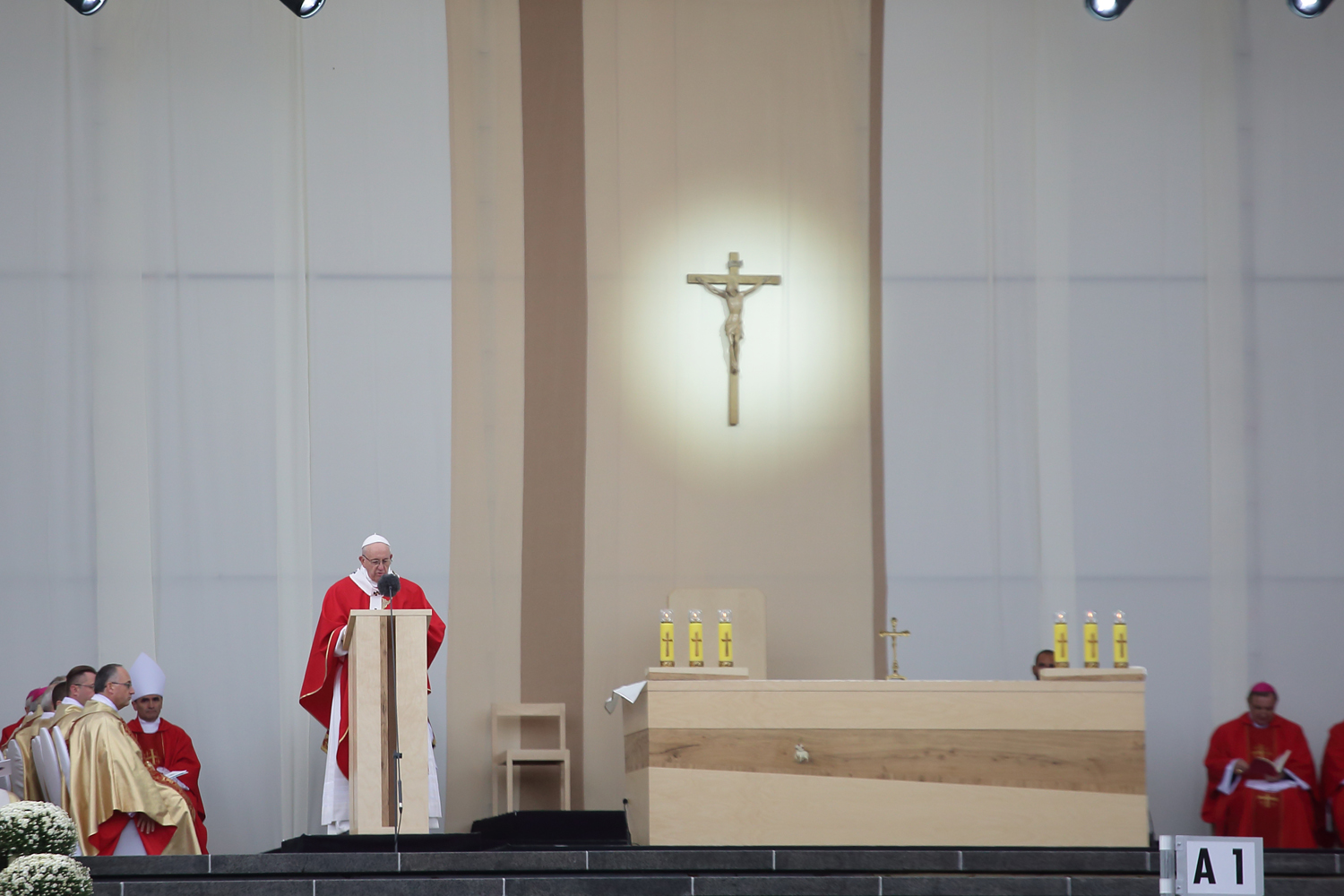 Photo 2.: The head of the Catholic Church giving his sermon at the pulpit made of fine veneer. Photo: Balti Spoon/Olev Mihkelmaa